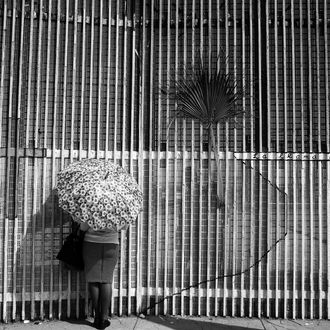 U.S-Mexico border.
Photo: Guillermo Arias/AFP/Getty Images
On Tuesday afternoon, New York Governor Andrew Cuomo announced the state's intention to file a multi-agency lawsuit against the Trump administration's family-separation policy.
In the last six weeks, the federal government has ripped approximately 2,000 immigrant children from their parents while they attempted to cross the border. The disturbing practice, as dictated by the administration's "zero tolerance" policy toward immigrants seeking asylum in the U.S., has pushed thousands of kids into literal cages, where they live in inhumane conditions as their parents await trial. And because there is no formal protocol to ensure that separated migrant families are deported back to their home country together, it's incredibly difficult for parents and children to reunite.
According to Cuomo's statement, at least 70 of those 2,000 separated children reside in detention centers in New York state — a number that will only grow as border agents separate more families. To prevent this practice from continuing, Cuomo is reportedly directing the Office of Temporary and Disability Assistance, the Department of Health, and the Office of Children and Family Services to commence legal action against the administration for violating the human rights of asylum-seekers.
"The Trump Administration's policy to tear apart families is a moral failing and a human tragedy," Cuomo said in a statement on Tuesday. "We will not tolerate the Constitutional rights of children and their parents being violated by our federal government. New York will act and file suit to end this callous and deliberate attack on immigrant communities, and end this heartless policy once and for all."
This announcement comes just one day after the governor declared that New York will not send National Guard troops to the U.S-Mexico border because the state "will not be complicit in a political agenda that governs by fear and division."
There are more ways we can help families separated at the border. Please see here.