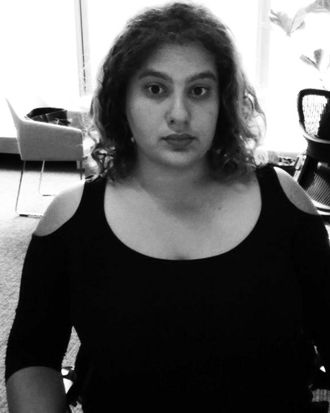 Talia Lavin.
Photo: Courtesy of Talia Lavin
When New Yorker fact-checker Talia Lavin posted a series of photos on Twitter mistakenly implying that an Immigration and Customs Enforcement agent had a Nazi tattoo, she was quickly informed of her error. So she deleted her tweet, and explained why in a follow-up. Within a week, she found herself resigning from her job.
"I just feel like I made a small mistake and it's destroyed my life," Lavin told the Cut today.
She first posted her tweet in the early morning hours of Monday, June 18th, and her follow-up came shortly after.
Later that day, ICE released a statement on their official Twitter account clarifying that the agent in question, Justin Gaertner, had a tattoo of his platoon's symbol from when he fought in Afghanistan. They also called out Lavin by name, writing, "Over the weekend, social media perpetuated by a tweet by New Yorker reporter Talia Levin [sic] erroneously implied that a tattoo on one of this arms was an Iron Cross and essentially labeled him a Nazi."
Lavin maintains that she didn't start the rumor, as numerous other Twitter users had accused Gaertner of having an Iron Cross tattoo before her short-lived tweet even went up. But right-wing media — not to mention neo-Nazi site the Daily Stormer — took the story and ran with it. She's also faced a significant amount of online abuse, saying, "it seems ironic that, for the crime of being too hasty to associate someone with white supremacy, I've had self-identified neo-Nazis publicly fantasizing about turning me into soap."
On Thursday, she announced that she had resigned from her job, writing that she had "become a weapon used to discredit my colleagues and the vital work they do holding power to account."
A spokesperson for The New Yorker declined to comment on Lavin's resignation. They did point to their previous statement on the situation, in which they told National Review that "the personal social-media accounts of staff members do not represent the magazine, and we in no way share the viewpoint expressed in this tweet."
"I think conservative media sunk their teeth into the story because it was everything they hate," Lavin said, when asked why she thinks she was specifically targeted even though the rumor didn't originate with her. "A lot of the articles about me are like 'smug New Yorker fact-checker,' a lot of them mention my Harvard education, certainly a lot of the comments are about me being fat. The Daily Stormer was all about me being Jewish. I'm a pretty richly compound-identitied person, and all of them are fodder for this war from the right against the left."
"I had $400 in savings when I left my job," she continued. "I don't have health insurance anymore. I'm broke and I'm terrified."
Lavin's resignation comes in the midst of a larger debate about "civility" toward members of the Trump administration and government agencies. "People can pretend to be naive all they like but the federal government, and agents of the federal government — whether it's the president, the press secretary or fucking ICE — using their platform to single out private citizens is not acceptable," Lavin added. "It's chilling behavior. It's censorship and repression."