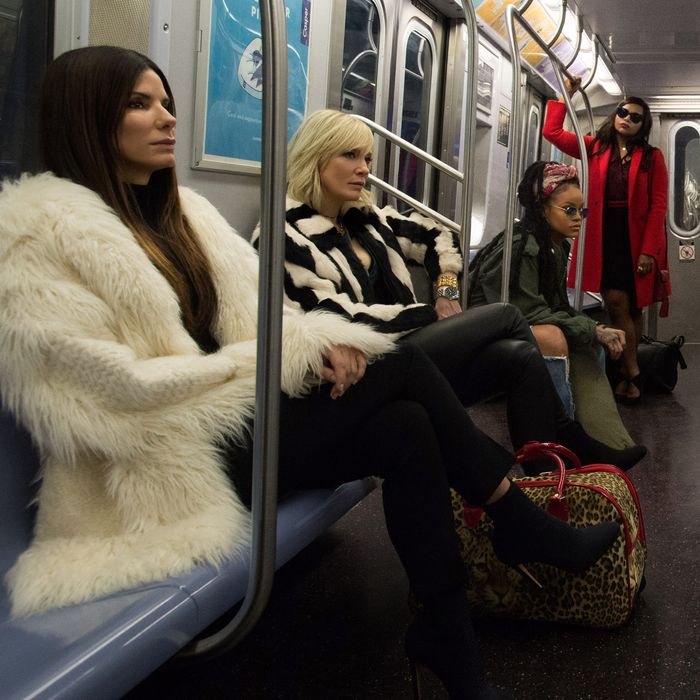 Photo: Barry Wetcher/© 2016 Warner Bros. Entertainment Inc.
If one Met Gala a year simply isn't enough to quench your thirst for over-the-top fashions and a good theme, you're in luck: the new Ocean's 8 movie re-creates the "fashion Oscars" from top-to-bottom. The only difference is that in the film, celebrities Sandra Bullock, Cate Blanchett, Anne Hathaway, Rihanna, Mindy Kaling, Helena Bonham Carter, and Sarah Paulson are all outcasts, as opposed to honored guests. Oh, and they rob the place.
Bullock plays Debbie Ocean, sister of the infamous Daniel Ocean (George Clooney). After sitting in prison for five years, she's worked out the perfect heist: robbing Cartier jewels right off the neck of ditsy actress and Met Gala co-chair Daphne Kluger (Anne Hathaway). In order to pull this off, she's enlisted a crack team of scammers, all of whom go undercover at the event, mingling with stars including Kim Kardashian West, Gigi Hadid, and Serena Williams — plus Anna Wintour herself.
In real life, the Met Gala takes at least a year to plan, but the film's costume designer, Sarah Edwards, pulled it off in a fraction of the time. With the help of Vogue, the PR agency KCD, and 50 styling assistants, Edwards dressed the entire cast and some 300 extras. Bullock wore an Alberta Ferretti gown, Blanchett a green sequin Givenchy jumpsuit, Hathaway a custom Valentino cape gown, and Rihanna a fiery red Zac Posen dress. Here's how Edwards made it happen.
So, how did you pull off re-creating an entire Met Gala — something that usually takes at least a year to plan? There were so many people that you had to dress.
We tried to re-create it as faithfully as possible on screen so that you believe it is a real Met Gala. We did work with Vogue as a whole production, and Anna [Wintour] was incredibly helpful in looking at some of the design choices and sharing what her feelings were. But with the hundred people we had to dress, it wasn't a situation where we could just go to a local department store and pick up dresses. We worked with KCD, a PR firm who helped get a lot of these dresses on loan from really great designers all over the world.
What do you think Anna was looking for?
She wasn't looking at each individual dress. Her collaboration with us was more on the theme of the ball; the tone of it. She wasn't involved in the day-to-day because she is a very busy woman.
I see. So making sure that the theme was within the realm of possibility?
Yes. And Hamish Bowles, the European editor-at-large for American Vogue, was also very involved. He curated the [European royalty] "exhibit." All of those dresses were on loan from different designers. The show was really incredible. I felt sad that people couldn't actually go to see it.
What led you to work with Valentino for Anne Hathaway's dress?
It just felt like the right fit for her. She has a history with the house and she's a movie star playing a movie star. We really only had a week to make the dress. (Some of these dresses take a year to make for the [real] Met Gala.) So their enthusiasm for the project and the history of Valentino felt right for the role of Met co-chair.
What about Sandra Bullock's look in the film?
Sandra Bullock is the mastermind, so it was important for me that she be cool, calm, and collected. I wanted there to be a stillness about her. As far as her clothing, I wanted her to be very sleek and polished. Her color palette was sort of dark neutrals. I wanted her to be able to move easily in and out of spaces without calling too much attention to herself.
And Cate Blanchett? She had so many good suits.
It was fun to do. She plays a chic rock-and-roll club owner, and I really wanted her past to come through. She had a lot of jewelry that she wore all the time that we felt were pieces she could have collected over the years. We looked at a lot of rock-and-roll style icons when doing research for her character.
Rihanna didn't seem to be wearing any big brands.
That's funny that you should say that; a lot of her clothes came from the Army Navy Store. It was obviously really different from how she is in her own life. And that's what made her Met Gala look such a Cinderella transformation. When she comes out of the halal cart in that Zac Posen dress, that was really a "wow" moment.
Were there any celebrities who made cameos for the Met Gala who dressed themselves?
There were a few. We'd shoot for 12–14 hour days during the night, so in order to get people who have important lives and obligations and busy schedules to come, we would try to just fit them in wherever was convenient. Oftentimes that meant that they would be flying in from somewhere for an hour or something, so we would meet with them and look at what they wear wearing to see if it fit. It was kind of spontaneous.
I'm assuming Kim Kardashian West dressed herself?
She did.
And Anna Wintour dressed herself?
She did. It really just depended how far in advance we knew that they were going to be able to come, and how much time we had with them.
Still, this seems like a lot of work in a very short period of time.
It was crazy. I had a really great team, too. You are only as good as your crew. I could not have done it alone.