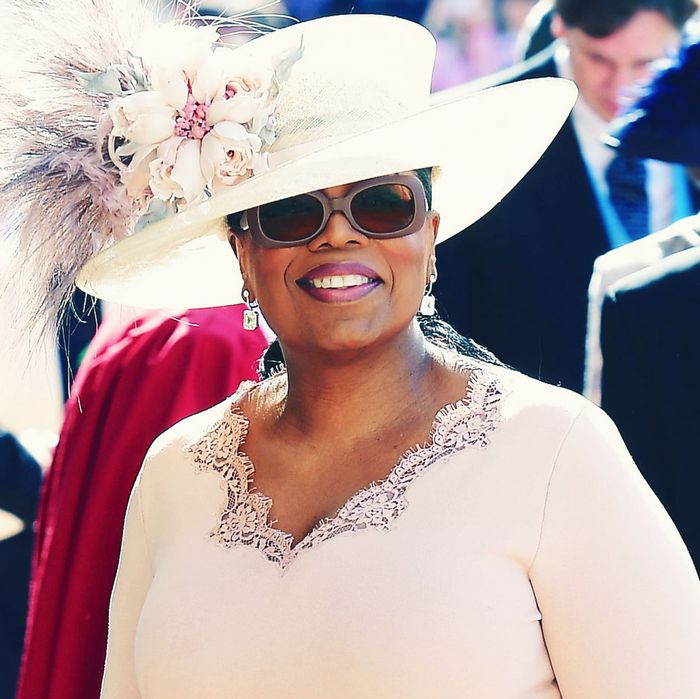 Oprah Winfrey at the royal wedding.
Photo: Ian West/AFP/Getty Images
Shortly before the royal wedding of Meghan Markle and Prince Harry, the former Suits star's real-life mother Doria Ragland was spotted at fellow royal wedding guest Oprah Winfrey's California home. People immediately began to speculate about what exactly went down at Oprah's place: Was Doria there filming an interview with Oprah? Why did Doria leave carrying a bunch of bags? And was Gayle King also there? But now we know the truth: They were just hanging out!
At the premiere of her new series Love Is __, Oprah dished about her hang with Doria to Entertainment Tonight:
"The story was that Meghan's mom had come to my house and she left laden with gifts," Winfrey recalled. "You know what the gifts were? First of all, she's great at yoga, so I said, 'Bring your yoga mat and your sneaks in case we just want to do yoga on the lawn.' So one of the bags was a yoga mat and the other was lunch."
Great, so she was carrying a yoga mat and lunch. Anything else?
"She said, 'I love kumquats,' and I said, 'I have a kumquat tree! You want some kumquats?' So it was a basket of kumquats, people," Winfrey explained. "For all of the people who said I am getting her gifts and I'm trying to bribe her for an interview — they were kumquats. If kumquats can get you an interview, I'm all for it!"
Kumquats! So there you have it: Doria and Oprah were doing yoga, eating lunch, and bonding over kumquats. Getting to do all three of those activities with these two inspiring women is now our new dream.