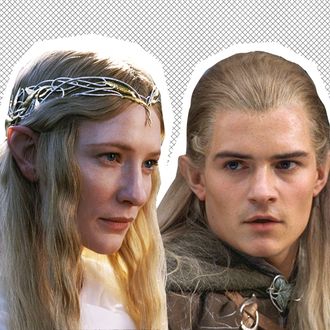 Photo: New Line Productions, Inc.
Every single day of my life I pray for new content related to Peter Jackson's early aughts Lord of the Rings film trilogy — and today, Manwë has answered my calls.
Orlando Bloom — who played the elf Legolas — and Cate Blanchett —who played the elf and meltdown queen Galadriel — recently appeared on The Late, Late Show With James Corden to discuss their time together on Middle Earth. (Also joining them was Niall Horan, who I've just learned was not a hobbit extra and clearly has no idea what's going on.)
"I had such a crush," Bloom revealed, of his feelings toward Blanchett. "You gave me a very special bow, and I look after it." In related news, sources reveal that I "had such a crush" on Aragorn, son of Arathorn, called Elessar, the Elfstone, Dúnadan, the heir of Isildur Elendil's son of Gondor.
Watch the clip below, then block off a nice 60-hour chunk of time to watch all three extended edition DVDs: