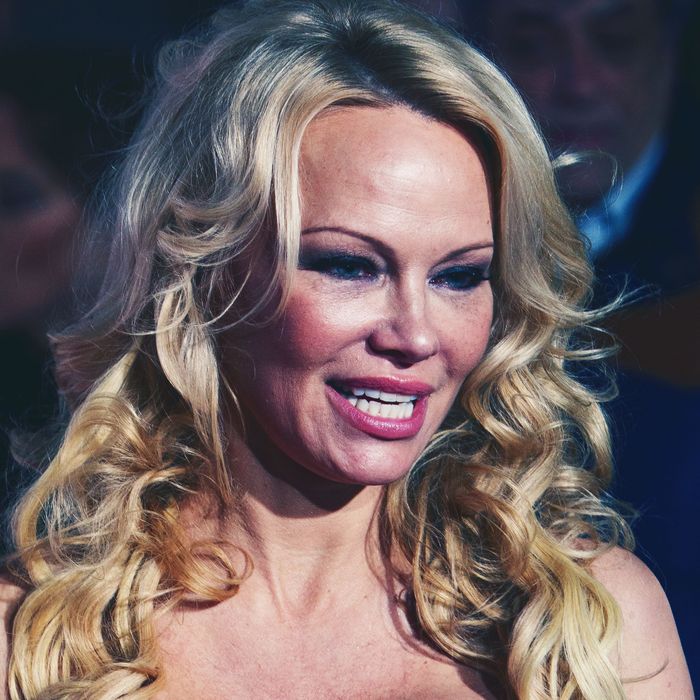 Pamela Anderson.
Photo: Pablo Cuadra/FilmMagic
On Wednesday Afternoon, TMZ caught up to Pamela Anderson, who was asked whether she believes President Trump should pardon Julian Assange, the WikiLeaks founder who faces allegations of rape and sexual assault.
Anderson is a friend of Assange's; she has also been rumored to be dating him. In the TMZ video, Anderson says she believes that pardoning Assange would be the "the smartest thing to do." She blows a kiss at the cameraman before departing.
President Trump has been on a bit of a pardoning bender recently. Earlier today, Trump granted clemency to Alice Johnson, a 63-year-old woman who was sentenced to life in prison behind a 1996 drug conviction. According to CNN, the White House has also prepared the paperwork to pardon or commute the sentences of dozens of other people. (It is currently unclear whether Johnson will be pardoned or have her sentence commuted.) Trump also hinted at a possible sentence reduction for former Illinois Governor Rod Blagojevich, who is serving 14 years after being convicted for corruption charges, as well as a pardon for Martha Stewart, who was convicted of conspiracy, obstruction, and making false statements to investigators after being investigated for insider trading.
Assange has faced accusations of sexual assault from two women, who both say they had sexual encounters with Assange that started as consensual, but became forced when they asked him to stop and he refused. Both of the alleged assaults occurred in Sweden. Assange has spent the past several years hiding out in the Ecuadorian Embassy in London, avoiding extradition; though Swedish prosecutors recently dropped his case because they've been unable to formally notify him of the charges against him, that doesn't mean they think he's innocent — in fact, one investigator told reporters that "probable cause for this crime still exists."