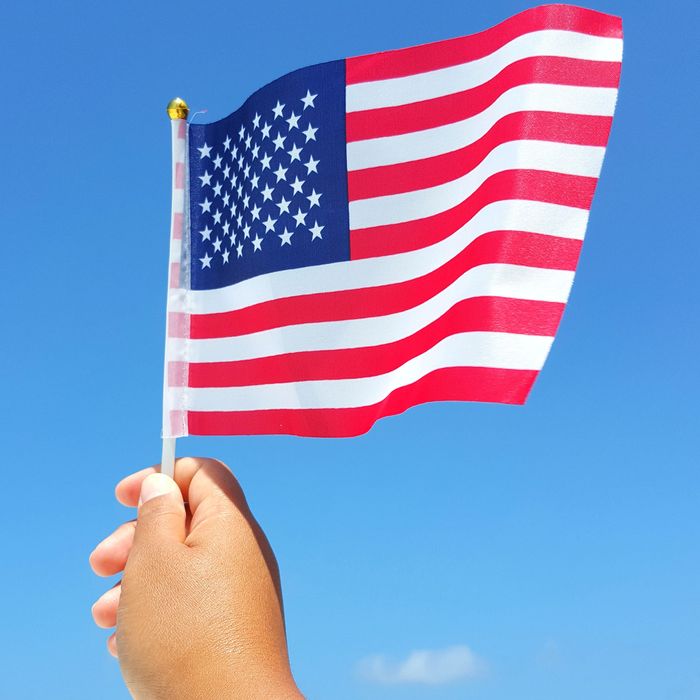 Photo: Jayson Wayne Brown/EyeEm/Getty Images
Last summer, I held my 17-month-old son's hand as we followed five men down a hallway into a conference room with chairs enough for 25. I put him on my lap and let him play with my phone as the men seated near us explained, in hushed tones, why it would be complicated, then impossible, for my husband to take a job that required us to move to Canada.
Last summer, my family and I tried to leave America. It was explained to us exactly why we could not: Our toddler has a genetic disease that is very expensive to treat, costing far beyond the threshold of medical inadmissibility for immigrants. At the end of the meeting, a young lawyer in a suit stood up and apologized. This was a tragedy, he said. He was sorry he could not help us.
We got on a plane a few days later and returned home to New York, where we continued to watch American lawmakers threaten our country's access to health care. Social media was awash with the people at risk, with photos of sick children and ill adults — along with all the healthy people who could become sick people overnight, or who might just want to have a baby at some point. Like so many, we were scared of losing the protections afforded by the ACA. We posted our son's image on social media in the hopes it would evoke empathy in other parents or simply appreciators of cute children, people who agreed with us about access to health care and, more importantly, the people who do not.
Over the past few weeks, many American parents have discussed family separation at our border in a similar way. These heartbroken and outraged parents post photos of their own children and agonize over the thought of not knowing where they are. These images ask us to imagine what it must be like, for terrified young children and their terrified parents. Meanwhile, the administration squabbled over what, if anything, could be done. Though the president signed an executive order to keep families together (to keep them indefinitely detained) last week, plans to reunite the 2,000-some children already separated from their parents seem shaky at best.
The week before, a clip of a reporter pleading with White House press secretary Sarah Huckabee Sanders circulated. "Don't you have any empathy?" the reporter asked. "Come on, Sarah, you're a parent, don't you have any empathy for what these people are going through?" He did the same as so many of us: He asked the press secretary to access what makes her the same — parenthood — as the mothers and fathers at the border and use that sameness to consider what was happening to people who are otherwise different. It's a similar kind of appeal American parents like me have made, and I think it might be a mistake.
Where are we, when a child's plight isn't enough? When we have to prompt people with children to imagine how they would feel if a child in danger were their own? This tactic is one with limits; it has the same good but misguided intentions as a father who expresses his concern for women in the context of his daughter. Because what happens when a plea falls short of finding common ground, when a person in charge isn't a parent or cannot look hard enough to see the similarities between their own child and the one in a hospital or a cage? What happens is exactly what's happening right now.
What's happening right now is a group of people who can imagine exactly what it would feel like to be separated from their children and have decided that it's not only okay for other people to experience that, but necessary. What's happening right now is another threat to the ACA, one made worse by the impending retirement of Justice Kennedy. Donald Trump has five children. Sarah Huckabee Sanders has three. Secretary of Homeland Security Kirstjen Nielsen has none. Speaking about family separation last week, a Fox News host said, "These aren't our kids."
My son is now 2 years old. He is a cute, bright kid who woke me up at 5 a.m., crying because he was cold. I pulled up the covers and felt lucky I could. I can and cannot imagine being separated from him. Under current law (which has already changed to be less prohibitive), he still cannot move to Canada, a country that might not be perfect but at least has the decency to make health care a right. In Canada, some feel a concern that the grounds for medical inadmissibility are still too discriminatory — that there should be no limit to the amount of money an immigrant might cost the country.
My son is one of 30,000 people in this country with his particular genetic disease. There are only a relatively small number of other parents who could look at him and know what it feels like, to fear losing access to the medicines that keep your child's lungs from filling with so much mucus he drowns. What we all need right now is the ability to look beyond images of our own children, to give up on relying on common ground as a catalyst for compassion. The most freeing and cruel truth is there is no common ground, not for any of us. Remembering that we don't need similarities to help each other is exactly what most of us — though, crucially, not all — are trying to teach our children.