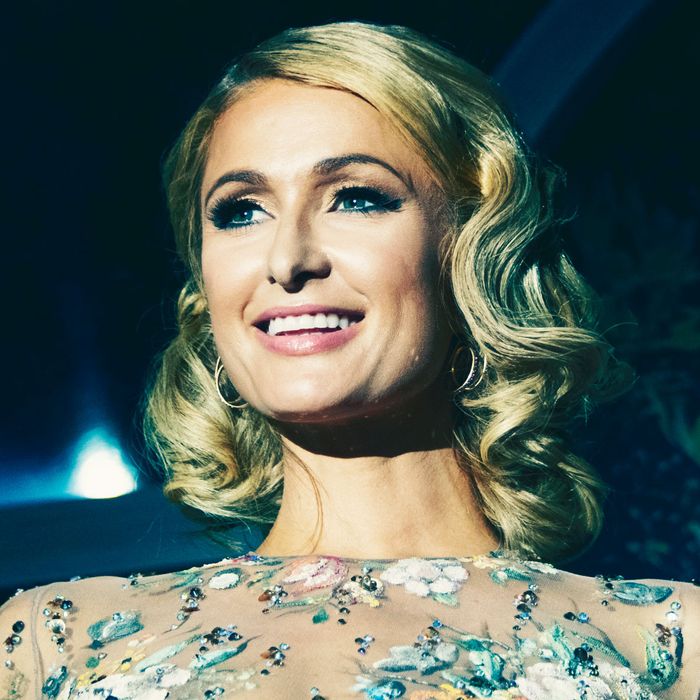 Paris Hilton.
Photo: Kevin Tachman/amfAR/Getty Images for amfAR
Paris Hilton, the sartorial queen of the 2000s, has taken inspiration from her Simple Life–era wardrobe to co-design a collection for online shopping juggernaut Boohoo. If Paris was at her height in 2018, she'd be rocking biker shorts with stilettos a la the Kardashians. However, luckily for us, she was the tastemaker back when tube tops and handkerchief hems were trendy, which makes her collection for Boohoo all the more delightful. Despite the nostalgic premise, the collection keeps with current trends.
According to Boohoo, the 70- (yes, 70) piece collection will include "animal prints, slinky metallics, palm prints inspired by her home town of Beverly Hills, all pink everything, and cheeky slogan pieces that boast her famous mottos like 'That's Hot'." Almost everything on that list has made a comeback in the past two years.
According to WWD, Hilton discovered Boohoo on Instagram and liked their "cute styles, designs, and accessories they make." She described her collection as, "very Paris, inspired by my life and style, the early 2000s, Beverly Hills and Ibiza." And of course, she thinks it's "so hot."
For the campaign, Hilton modeled with her chihuahua, a tiara, and Razr phone. She'll be promoting the collection at her DJing gigs in Ibiza this summer (hopefully by wearing items she co-designed). It will all be available on June 20 at Boohoo.com, and Boohoo has 8 weeks of Paris Hilton-themed content to roll out, so be on the look out for lots of trucker hats and miniskirts to come.