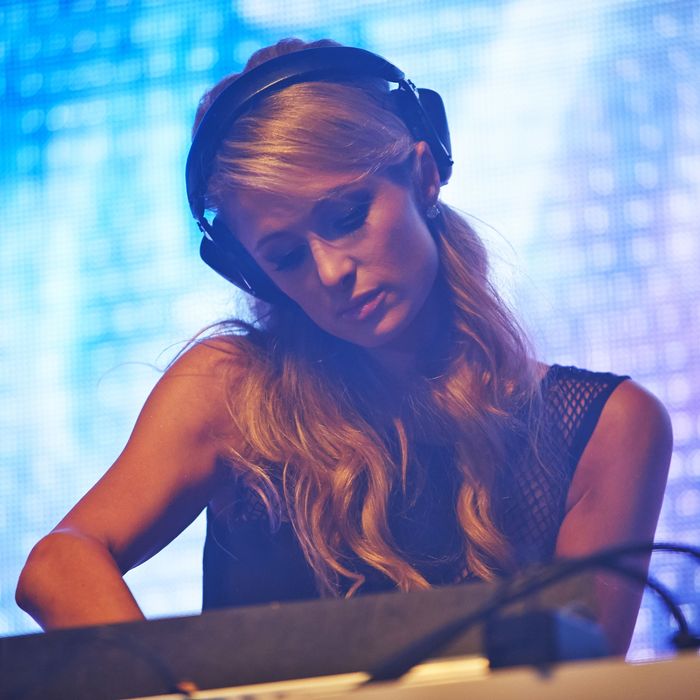 Paris Hilton, DJ.
Photo: Lukasz Szelag/Gallo Images/Getty Images
Paris Hilton may be busy planning her upcoming wedding to Disney-style "Paris" tattoo-haver Chris Zylka, but she still makes time for her true passion in life: DJing. In fact, the Simple Life star has moved beyond merely being a feminist DJ who spins at Burning Man and the gym; now, she's apparently also a wedding DJ.
Over the weekend, Paris was spinning some tunes (or is it slinging some beats?) at her younger brother Barron's wedding reception in St. Barts. In video shared on Instagram by wedding guest Ursula Nesbitt, Paris is seen with her fist bumping as she DJs the night away while simultaneously wearing sunglasses indoors in the dark, just like any good sister of the groom.
The DJing was done in celebration of the union of Barron, 28, and socialite Tessa Gräfin von Walderdorff. The entire immediate Hilton family attended the nuptials, and they all even coordinated their "island-friendly outfits" for the wedding, People notes. However, Zylka appeared to be off theme in his attire, as he is seen in Paris's Instagram picture wearing all black, oops.
No word on how long Paris DJed during the reception or how many tunes she played. But we can only hope she didn't lose her $2 million diamond engagement ring again while dancing around.