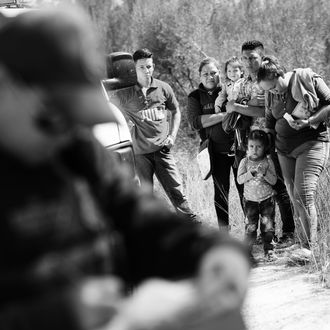 Photo: John Moore/Getty Images
While Donald Trump signed an executive order meant to stop his administration's disastrous policy of separating immigrant families at the border, the Washington Post reports that the Defense Department is making space available on military bases to house up to 20,000 unaccompanied migrant children.
As of now, approximately 2,500 children who were ripped from their parents are being detained in cages, where many are struggling to deal with extreme trauma. When Trump put his signature on the executive order yesterday, the cruel practice ostensibly came to a halt, but it appears the government anticipates detaining more unaccompanied minors.
In a Pentagon memo sent to lawmakers on Wednesday night, the Department of Health and Human Services requested that the Department of Defense "determine its capabilities to provide up to 20,000 temporary beds for unaccompanied children at DOD installations" from July through the end of the year. Thursday afternoon, a Pentagon spokesperson told the Post that the DOD intends to support HHS's request.
While the family-separation policy was unprecedented, this wouldn't be the first time that the government has housed immigrants in military bases. As recent as 2014, the Obama administration built three temporary centers where 7,000 unaccompanied children resided. According to officials who spoke to NPR, the DOD is expected to make space in four bases.
Dismissing concerns about forcing migrants to stay on military bases, Defense Secretary Jim Mattis told the Post, "We do whatever is in the best interest of the country."