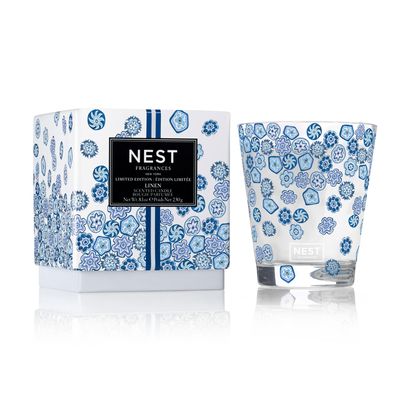 Photo: Courtesy of brand.
Every candle is perfect for someone. The Perfect Candle is a weekly review of new candles that lets you know for whom, and why.
Life is about compromise. Having a job to get money when you'd rather just have money with no strings attached; waking up every day in the nightmarish present rather than the potentially decent but increasingly distant future; attending your friend's concert even though her band doesn't go on until after 11 p.m (!). A compromise many city-dwellers make is the trade of things like living space, peace, and washers or dryers for the luxuries of the city: trains that don't work, high rent, and restaurants. For those who wear clothing, the laundry part of this trade can be unfortunate.
Nest's "Linen" candle, shown above in its limited-edition specialty collection design ("inspired by artisanal glass handmade in Murano, Italy," says Nest), seeks to solve at least the olfactorial aspect of this problem. It smells like clean laundry. "Clean laundry and what else?" you're wondering, so greedy. Jesus. What else do you need? While I request that you relax while I'm attempting to tell you about a candle, I will admit that there are some other scents in there, so your question, though greedy, is warranted.
"It smells like pineapple," a friend said upon smelling this candle. That's an, uh, interesting reading, but we're not all professional candle reviewers and cannot be judged as such. It's fine; it takes all kinds. Here's how Nest describes it:
Imagine the aroma of freshly laundered linens billowing in a summer breeze against a backdrop of delicate blooms. Notes of apple blossom and white orchid enhance the fragrance with a hint of floralcy. It is an experience that can only be described as refreshingly crisp.
Damn. Of course, everyone loves freshly laundered linens billowing in a summer breeze against a backdrop of delicate blooms. But will everyone love this candle? Let's assess.
Is the candle good?
Yeah, it's pretty good. It's not gonna make you scream out loud because you never knew a candle could be so good and now you'll forever chase the original high of that first whiff, but not everything has to be nuts. It's a good scent: laundry. As for the other stuff, yeah, you can tell there's a bit of brightness in there, a bit of sweetness. It's mostly straight-up clothes-in-the-dryer laundry, which is good, but it's for sure a slightly more perfumed, candle-y version of laundry.
"Laura [Slatkin, Nest's founder] didn't want people to use her candles as décor or status symbols to treasure and only bring out when having guests over," said Nest's PR man in an email to me regarding Nest's price point and style. It's true that sometimes it's just nice to have a candle to just burn and burn and burn without having to think about how every hour you're burning it costs $3 or whatever. Particularly if you're buying them and not receiving them for review as I do, which I say not as a brag but as a disclosure.
How much does it cost, and how long will it last?
This particular limited-edition version of the candle costs $50 and will last 50 to 60 hours. There's a non-limited-edition version that costs $40, though, in case you don't care too much about the blue sea creature-y exterior that also sort of looks like something under a microscope.
When should you burn this candle?
Sunday, it seems like. When your apartment is clean and the windows are open and it's sunny and there's a breeze and you'd like it to smell a little extra nice, like you also did laundry even though you do not have a washer or dryer in your apartment. It could be a nice scent memory — the time when you lived somewhere where there was a washer and dryer. Man.
I would also recommend burning this candle at your boyfriend's apartment and then leaving it there for him to use, or for you to light when you're there. A clean-laundry-scented candle is the perfect candle to plant at your boyfriend's apartment because the scent, like "cut grass," is non-threatening to his fragile masculinity.
Who should buy this candle?
You, for your boyfriend. Or anyone who desires the smell of the luxury of a washer and dryer. It is a good smell.
If you buy something through our links, New York may earn an affiliate commission.