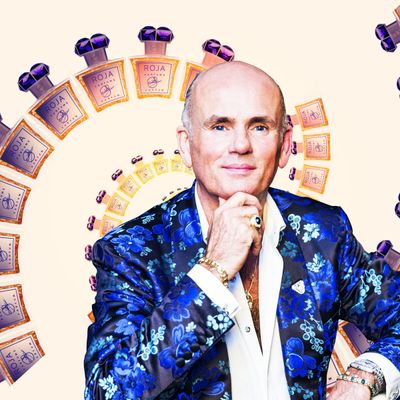 Call it the Proust effect: Memories are best triggered by smells. Scientific studies confirm that out of all the senses, smells and fragrance offer the best recall. Our new feature, Scent Memories, will ask its subjects to talk about the scents they associate with different emotions and thoughts. Next up is Roja Dove. After two decades with Guerlain, Dove opened Roja Dove Haute Parfumerie, a custom perfume service in Harrods, followed by Roja Parfums, his ready-made line, in 2011. The ready-made line was the most successful launch in Harrods, ever (and you can shop for it at Bergdorf Goodman and Neiman Marcus stateside). Dove talked to the Cut about his favorite rose tea, the lemony scent of the Mediterranean, and why he is a lot like a cashmere sweater.
My first scent memory: The scent of face powder and perfume. When I was a small boy, my mother would dress up to go out to cocktail parties. My ordinary mother was transformed by her gold lamé dress and the scent of her perfume. When she would give me a kiss goodnight, it was the first time I thought about smell and association.
It was a very soft, powdery smell that seemed to be the micro-encapsulation of femininity. It was the scent of tenderness. Maybe one of the reasons I've always had a great proclivity toward using soft notes in perfume is because of this moment, they've always said luxury, comfort and femininity to me.
The smell I associate with love: They are two perfumes of my own creation: Vetiver Parfum Pour Homme and Fetish Parfum Pour Homme. I am very lucky that I have spent the last 43 years of my life living with the same person. In the summer he wears Vetiver and in the winter he wears Fetish. The scent of love is the scent of Peter, my partner.
Happiness smells like: Baking. There is nothing more lovely than walking into a home or a room, than when something is baking. It is cozy and happy. There is a lot of warmth associated with it: the physical warmth of the food; the feeling of the scent that comes from it; and it warms the heart, because it suggests something that will be shared.
Heartbreak or loss smells like: My mother's perfume. I took the bottle of it when she died, and for me, whenever I smell that (which I don't do very often because I find it very difficult to do), it is crushing. We all know that smell is about memory and association and the beautiful gift we are given is that memory. But at the same time, it can be cruel.
Regret smells like: Ha-ha! That is my biggest secret; it will go to my grave with me. It will get me in trouble if I reveal it.
Vacation smells like: It's the warmth of a Mediterranean breeze and all that is caught on it. If I'm in France, eucalyptus and lavender — perhaps with a little jasmine — will be in the air. If I'm in Italy, it will be the scent of citrus blossoms along with that little tang of salt, basil, and a very good Valpolicella.
Sunday morning smells like: Scrambled eggs, toast, and mushrooms, with coffee in the background. Funny thing is that even though it isn't a smell, I always think of laughter, because I associate the smell of breakfasts with laughter. I go out most Sundays for breakfast with friends and I always eat the same meal. These smells and feelings combined are what Sunday mornings are all about.
Monday morning smells like: A freshly brewed pot of tea to start the day. I only drink one type of tea and that is Fortnum & Mason's Rose Pouchong, which is a Chinese tea scented with rose — the only tea I could find that uses a real rose over a synthetic one.
The second scent is the very old fashioned smell of hot sealing wax, as the first thing I do on a Monday morning is write all of my correspondence cards, which a I seal with a gold RD seal.
Friendship smells like: My closest friend in the world, Roger Dew. He lives in Manhattan and it is the smell of his apartment on 13th street. It is the smell of easy, uncomplicated warmth. It is the opposite of rushing around — it is the comfort of sitting in each other's company.
If you could have one smell on your hands forever, what would it be and why? The scent of my partner, Peter. One thing I love about scent is that the first time you make love to somebody, they leave their imprint on you, because your hand passes by your face and you smell them on you. Through familiarity, we no longer smell our partners. The moment they are not with you, the smell becomes incredibly strong. I am horrendously romantic with all this stuff. I could say something fantastically rare and exotic but really, love is the rarest thing of all.
A pleasant surprise smells like: Someone giving you a Bellini. The smell of the Champagne and a peach juice is the most fantastic surprise.
I smell like: A little something I make for me. It is all I ever use and it is a warm, dry, and soft chypre. I describe it as a chypre wrapped up in cashmere. It is slightly powdery, like touching the top of a cashmere sweater, with a strong, confident interior. Maybe that's how I see myself? I've never thought of that before! Maybe we've got to the nub of who I am: strong and confident but a bit fluffy on the outside.
If you buy something through our links, New York may earn an affiliate commission.