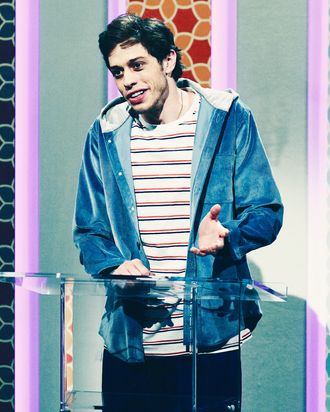 Pete Davidson.
Photo: NBC/NBCU Photo Bank via Getty Images
Just a little over a week ago, comedian Pete Davidson showed off two new tattoos that were inspired by his new girlfriend and alleged fiancée, Ariana Grande: an image of Grande's black bunny mask that she wears on the cover of her album Dangerous Woman, and her initials. While we were busy focusing on the new Grande ink, we somehow managed to miss the other new art on Davidson's forearm — one that conveniently covers his tattoo of his ex Cazzie David's face.
As Us Weekly notes, it's unclear when exactly Davidson got the forearm cover-up, which resembles the design he has on his left arm. Perhaps he got the work done in the same session as his Grande-inspired pieces, and we were too distracted to notice. All we know is that he got it at least four days ago, as the new tattoo can be seen in this Instagram of Davidson attempting to dance:
One thing is for sure: Davidson is sure having to drop a lot of money to cover his break-up with David and new relationship with Grande!