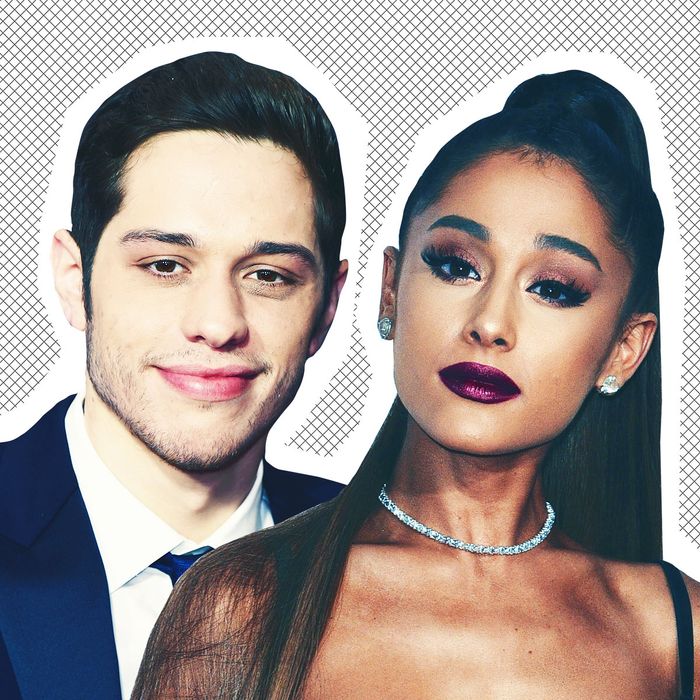 Pete Davidson and Ariana Grande.
Photo: Getty Images
After almost one whole month of dating, SNL star Pete Davidson and singer Ariana Grande — couple name: Grandson — announced this week that they were engaged. What's more, it turns out the 24-year-old Davidson shelled out $93,000 for a custom ring for the also 24-year-old Grande. Now, jeweler Greg Yuna — who made the ring — is saying that Davidson ordered the ring back in May. What!
Speaking with E!, Yuna revealed that the ring took about two weeks to make, and is just over three carats. But more importantly, the jeweler told E!, "Pete called me at the end of May and said 'Look, I'm getting a ring. This is what I want.' And I told him that I had the right ring for him. He didn't tell me who it was for but told me to keep it a secret. He didn't tell me anything about it."
Okay, if you look back at our sister website Vulture's handy timeline of the Grandson relationship, you'll see that Grande announced her split from boyfriend Mac Miller on May 9 and was then spotted at a SNL after-party on May 12 with a cell-phone case that looks a lot like the cloud case Davidson has. Then, on May 16, Davidson revealed that he had split up with longtime girlfriend Cazzie David, and by May 18, we all learned that he was dating Grande.
So, assuming that no one did anything shady, this means sometime between mid and late May, Davidson started dating Grande, decided he wanted to marry her, and bought her a fancy ring.