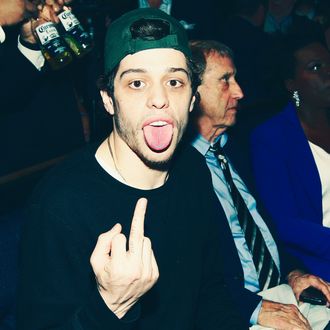 Pete Davidson.
Photo: Mychal Watts/Getty Images
There goes an old saying that one should never get tattoos dedicated to a new-ish romantic partner, which comedian Pete Davidson is shamelessly ignoring. Over the weekend, the 24 year old got two new tats for his girlfriend, Ariana Grande, with whom he only recently entered a relationship. To be young and in love!
In late May, news broke that Davidson and Grande were casually dating, which is clearly more serious than any of us anticipated. On Saturday, Los Angeles tattoo artist London Reese tweeted a photo of the new ink he gave Davidson: an image of Grande's black bunny mask that she wears on the cover of her album Dangerous Woman, which is half-tucked behind his ear. Davidson also got a tattoo of Grande's initials on his thumb, probably for something called "love," but who's to say.
Given their dating status only become public in late May, this relationship is progressing quite quickly! First, wearing Harry Potter robes together, and now partner-inspired tattoos? Best of luck to the young, young couple.