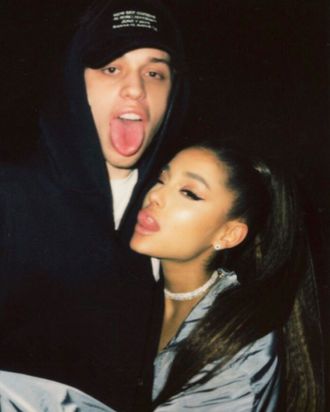 Pete Davidson and Ariana Grande.
Photo: arianagrande/Instagram
When Pete Davidson allegedly proposed to Ariana Grande after dating for about a month, we all were appropriately suspicious of how long the young couple had actually been together. Finally, TMZ has a report that starts to elucidate the dubious Grande-Davidson dating timeline: The SNL comedian was allegedly "on a break" with his ex-girlfriend, Cazzie David, when he fell for Grande.
On May 17, news broke that David and Davidson had broken up after dating for nearly three years. According to TMZ, though, the couple had been "on a break" for an indefinite amount of time before officially splitting. Apparently, it was during this period that the comedian decided he wanted to move on with Grande instead of patching up issues with David — a decision that catapulted the 24-year-old toward marriage in just a few weeks.
While the TMZ report does shine light on the start of the Grande-Davidson start and Davidson-David split, it still doesn't quite answer all our pressing questions. Say Grande and Davidson started dating earlier than May 18, when Bossip first broke the news, which seems likely — that still doesn't quite line up with the reports that Davidson bought Grande's $93,000 engagement ring in mid- to late May, unless he picked up the massive rock very soon after their first date. That is, unless Davidson and Grande were doing something shady, but nothing has yet indicated that.
Although … is falling in love with someone while "on a break" with another person shady? Looks like it's time to revisit that age-old Friends question.