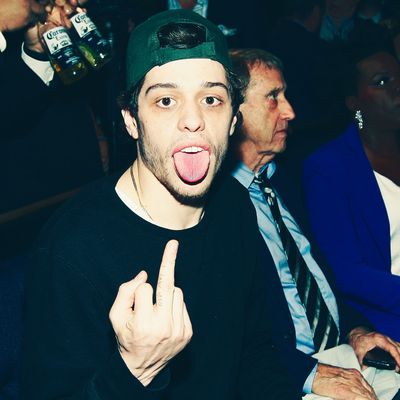 Pete Davidson.
Photo: Mychal Watts/Getty Images
Pete Davidson loves tattoos. And not just any tattoos: girlfriend-inspired tattoos. In the past few years, Davidson has gotten inked with art inspired by his ex, Cazzie David, and later his fiancée, Ariana Grande, which many would argue is not the best idea — including his own tattoo artist.
In an interview with "Page Six," Davidson's artist, Jon Mesa of Chinatown's No Idols Tattoo shop, revealed that he told the comedian to quit it with the partner-inspired tattoos until they were married.
"So I did a huge coverup [adding a forest of trees] … After we were done, I told Pete, 'Hey, dude, let's just stop with the girlfriend tats until after [Grande's] your wife,'" Mesa told "Page Six." "Because relationships come and go, and Pete is a really young man. [But] I think that went in one ear and out the other."
Mesa was presumably referencing the coverup he did of Davidson's tattoo of David's face, sometime around June 12. As evidenced by Davidson and Grande's most recent couple tattoos from just last week, the advice certainly went in one of Davidson's ears and out the other. That is, unless Mesa's okay with fiancée tattoos.