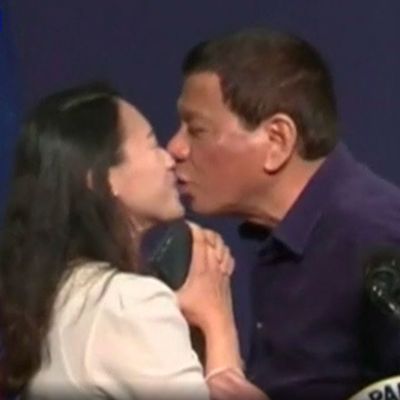 President Rodrigo Duterte.
President Rodrigo Duterte of the Philippines, a man notorious for his repeated human rights violations — including the use of state-sanctioned death squads — has come under fire after publicly kissing a woman on the mouth during an event in South Korea.
Duterte, who has bragged about having mistresses and made rape jokes publicly, called on two women to join him onstage to be presented with a book during a live event for Filipino workers in Seoul. The New York Times reports that he asked one of the women for a kiss in exchange for the book. Duterte then asked the woman, who has been identified as Bea Kim, "Are you single?," to which she replied that she was married.
"You're not separated from him?" Duterte asked about Kim's husband, before adding, "But can you tell him that this is just a joke?" Then, he proceeded to kiss her on the lips in front of the crowd of approximately 3,000 people. The kiss was captured in plain sight on video that has been widely shared.
Kim later told the Philippine News Agency, "There wasn't malice in it. For me, for him, it didn't mean anything." However, Duterte's kiss has drawn extensive criticism. Per the Times:
"It was a despicable display of sexism and grave abuse of authority," a Philippine senator, Risa Hontiveros, said in a statement. "Even if the act was consensual, it was the president, possessed of awesome, even intimidating power, who initiated it," Ms. Hontiveros said. "It was not a meeting of two consenting individuals on equal terms."
Others have also slammed Duterte on social media: