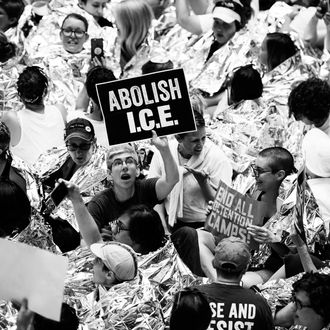 Protesters at the June 28 demonstration.
Photo: Bill Clark/CQ-Roll Call,Inc.
Ahead of the nationwide protest against the Trump administration's family-separation policy planned for this Saturday, more than 2,000 women marched from the Department of Justice to the Hart Senate building in Washington, D.C., to demand the end of immigrant detention, family separation, and the U.S. Immigration and Customs Enforcement.
The act of nonviolent civil disobedience, organized by the Women's March, started at the DoJ, where women blockaded the building's entrance during the lunch hour. Then, protesters — who wore white, at the organizers' request — marched to the Hart building, where they covered themselves with foil blankets that resemble those given to immigrant children in detention centers, and chanted "Abolish ICE" and "Where are the kids?"
A handful of Democratic politicians also joined in, including senators Kirsten Gillibrand, Tammy Duckworth, and Mazie Hirono, as well as Pramila Jayapal, the congresswoman who helped plan Saturday's nationwide Families Belong Together protests.
"This is what democracy looks like," one woman in attendance tweeted with the demonstration's hashtag, #WomenDisobey, which many protesters used.
"Women are powerful," Palestinian-American activist and organizer Linda Sarsour tweeted, along with a few other hashtags: #EndFamilyDetention, #EndFamilySeparation, and #AbolishICE.
Other women documented the mass arrests of protesters, of which there were 630, according to the Women's March. According to reports, Representative Jayapal and the actress Susan Sarandon were among those arrested.
After her arrest, Jayapal promised to be back in the streets for the Families Belong Together protests this Saturday.
"Not in our country," she tweeted. "Not in our name. June 30 we're putting ourselves in the street again."
Trump signed an executive order ending the family-separation policy on June 20, but he took no action to reunite the 2,000 immigrant children who were ripped away from their parents from the original iteration of this cruel and inhumane policy.
It's for this reason that women showed up — and will continue to show up — to send a message to the Trump Administration: "We care."
"As a woman and as a mother, I refuse to stay silent as parents on the border are separated from their kids," Women's March co-chair Tamika Mallory said after her arrest. "America has a deep history of separating Black women from their children, but we fought back. Our fight won't end until all mothers are reunited with their children, which is why we are demanding an end to immigrant detention once and for all."