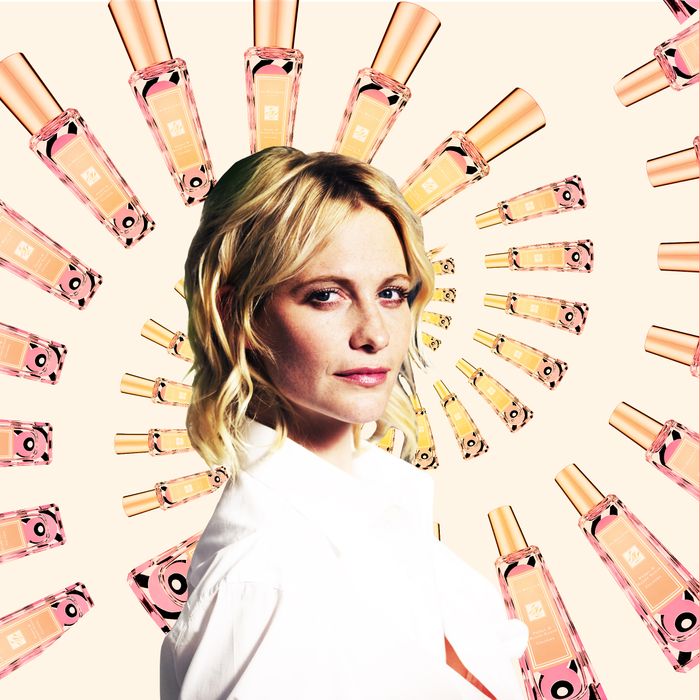 Call it the Proust effect: Memories are best triggered by smells. Scientific studies confirm that out of all the senses, smells and fragrance offer the best recall. Our new feature, Scent Memories, asks its subjects to talk about the scents they associate with different emotions and thoughts. Next up is Poppy Delevingne, model, actress, older sister of Cara, and the creator of a limited-edition collection for Jo Malone London called Queen of Pop. The collection includes decadent offerings including bubble bath, candles, and of course cologne (including Amber & Lavender, a scent favored by her husband). We spoke with Delevingne about cutting class at boarding school, popcorn, and the smell of newspapers.
My first scent memory: Gardenia, because my grandmother always had a dressing table covered in lotions and potions. I remember the sound of the bottles clanking together and the all-encompassing smell of gardenia.
The smell I associate with love: Love would have to be chocolate cake — a really gooey chocolate cake, heavy on the icing.
Happiness smells like: Happiness smells like open fields, spring flowers like daffodils, and freshly cut grass. It just reminds me of when I was at boarding school with all of my friends and we'd hide from class and laugh and laugh.
Loss or heartbreak smells like: Cigarettes. Some people love the smell of cigarettes, but to me it's just like the dirty ashtray smell.
Regret smells like: It smells like wet pavement on a very early morning when I should be in bed.
Sunday morning smells like: Newspapers – like that fresh magazine, fresh print smell.
Friendship smells like: My friendship one is going to sound kind of random, but all of my friends are having babies. Literally all of them – so whenever I think of my dearest friends I think of that gorgeous, wish-we-could-bottle-it baby smell. Look out for Newborn Baby from Jo Malone London.
A pleasant surprise smells like: Cigars – I love it. I had an uncle who used to live abroad. I remember when he would come to stay and I didn't know he was coming, I would run down in the morning. I could smell old cigars in the sitting room and that meant he was there. It's such a weird smell to think you'd love, but whenever I smell a cigar, I feel very nostalgic and warm.
If you could have one smell on your hands forever, what would it be and why? I love the smell of amber. I find it very comforting. I met [my husband] when I was 21, and since then, he has worn Amber & Lavender cologne by Jo Malone London. Now I think it smells comforting, heartwarming, and just like I'm with him.
Monday morning smells like: Bacon sandwiches with shed-loads of butter. The only thing that could get me out of bed is the smell of a bacon sarnie.
Success smells like: Pink Champagne. I never drink Champagne, so for me when I'm celebrating someone or something, that smell of Champagne reminds me of that.
I smell like: Popcorn, probably. I'm a huge popcorn eater and my name is Poppy and I love films, so it all comes together. I'm very popcorn-like, all in all.