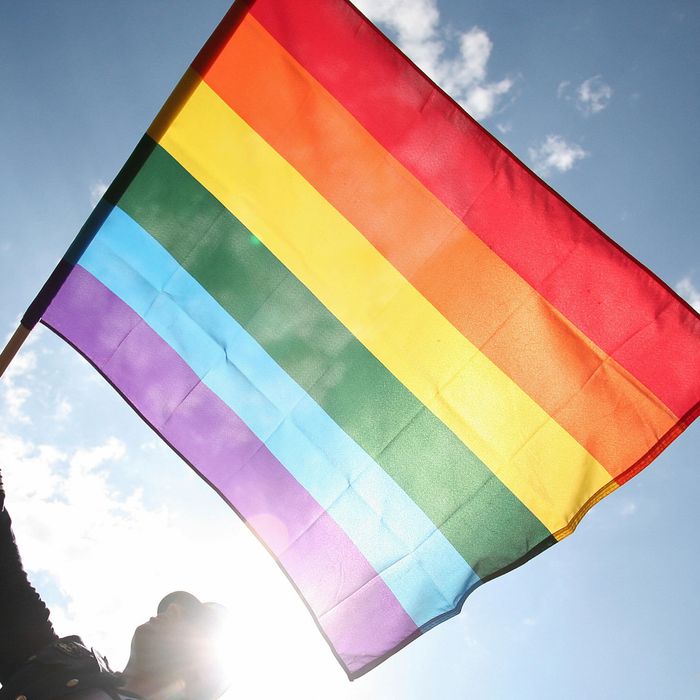 Photo: Wojtek Redwanski/AFP/Getty Images
It's Pride Month, an annual occurrence that unites LGBTQ communities and allies across the country and serves as a powerful reminder of the country's historical strides in equal rights — as well as a catalyst to reinvigorate the fight against government barriers. From New York City to Chicago to San Francisco, here are some of the biggest Pride events coming up.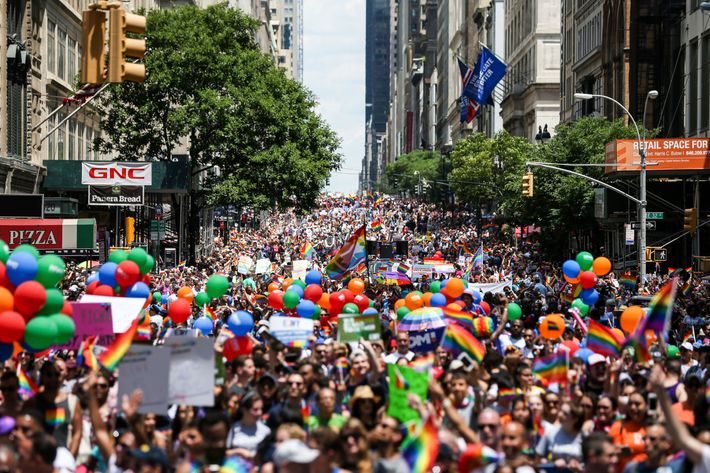 The Pride March 
June 24, 12 p.m. at Seventh Avenue and 16th Street
The Pride March, which is NYC Pride's biggest event, takes place on Sunday. With over 110 floats and 450 unique marching contingents, last year's march was the biggest in history, and this year's is set to break that record. The grand marshals for this year's parade will be Billie Jean King, Lambda Legal, Tyler Ford, and Kenita Placide. It will also be livestreamed on ABC7 from 12 to 3 p.m.
Pride Fest
June 24, 11 a.m. to 6 p.m. at University Place between 13th Street and Waverly Place
Heading into its 25th consecutive year and traditionally held in conjunction with the parade, NYC Pride will host a street fair with artists, exhibitors, and a variety of activities that blend local residents and business owners, families, corporate sponsors, community leaders, and more.
Pride Island 
June 23 to June 24 at Hudson River Park's Pier 97
For its second year in a row, the biggest Pride music festival in New York City is taking place in the heart of Hell's Kitchen. Boasting an impressive lineup of performers, this event brings together the LGBTQ community for a lively celebration.
• Saturday, June 23: 2 p.m. to 10 p.m.
Tove Lo
Lizzo
DJ Simon Dunmore
Big Freedia
Sasha Velour
DJ Dawson
• June 24: 2 p.m. to 11 p.m.
Kylie Minogue
DJ Grind
DJ Ralphi Rosario
DJ Corey Craig
Game Changers Panel
June 15, 8 p.m. to 10 p.m. at the SVA Theater
In partnership with GLAAD, Game Changers is a new event spotlighting leaders of the LGBTQIA+ community that have broken through barriers in their respective industries and communities. The panel will be moderated by Diana Tourjee, a GLAAD award-winning trans journalist, and will feature panelists Brian Michael Smith, Amiyah Scott, Jamie Clayton, and more.
OutCinema
June 18 to June 20, 6:45 p.m. to 7:30 p.m. (varies) at the SVA Theater
A three-day screening curated by the publication Them, this series of shorts entitled "Queeroes" will include an introduction by the filmmaker at the start of the show. In partnership with NewFest and the SVA Theater, the event will feature the short films Ideal Home, Antonio Lopez 1970: Sex, Fashion & Disco, and From Selma to Stonewall: Are We There Yet?
Pride Week at the Joyce
June 19 to June 23 (hours vary) at the Joyce Theater
Head to the Joyce Theater, an official partner with NYC Pride, for six performances by two queer contemporary dance companies: Madboots Dance, a queer, all-male dance troupe, and Sean Dorsey, a transgender choreographer and head of the Sean Dorsey Dance company. Dorsey will perform the premiere of The Missing Generation, created after recording oral-history interviews with longtime LGBTQ survivors of the early AIDS epidemic.
The Rally
June 22, 5 p.m. to 7 p.m. at the Stonewall National Monument
The Stonewall Riots in June 1969 gave birth to the first NYC Pride Rally just one month after the event, where 500 people gathered for a "Gay Power" demonstration in Washington Square Park, followed by a candlelight vigil in Sheridan Square. It's since become a long-standing tradition during each year's Pride month in New York.
Cosplay & Pride
June 22, 6 p.m. at Pier 40
For the first time ever, NYC Pride is having a cosplay event, founded in partnership with the creators of Flame Con, the LGBTQ nonprofit Geeks OUT. A sunset cruise will feature Phi Phi O'Hara & DJ Cameron Cole.
Pride Festival
June 16 to 17, 11 a.m to 10 p.m. at Boystown
Hosting an array of performers like the Chicago Gay Men's Chorus, DJ Xtasy, and Blake Lewis, this year's festival will include both some wild and some family-friendly events. From a "Singles Charity Auction," to multiple drag shows, to an ABBA salute, head over to Boystown for a weekend of pure celebration and fun.
Chicago Pride Parade 2018
June 24, 12 p.m. to 3 p.m. at the corner of Broadway and Montrose
PRIDEChicago will be coordinating the city's 49th annual Pride Parade, the culmination of a month's worth of events. As many as 750,000 people are expected.
Chicago Black Pride
June 29 to July 3 (events and hours vary)
From the "Same Gender Loving Art IV" gallery curated by the Ubuntu Center of Chicago, to the EA Pride Index Esteem Awards honoring select individuals and organizations, to cocktail parties and nightclub events, the LGBTQ Black communities and allies will host an array of events from the end of June to early July.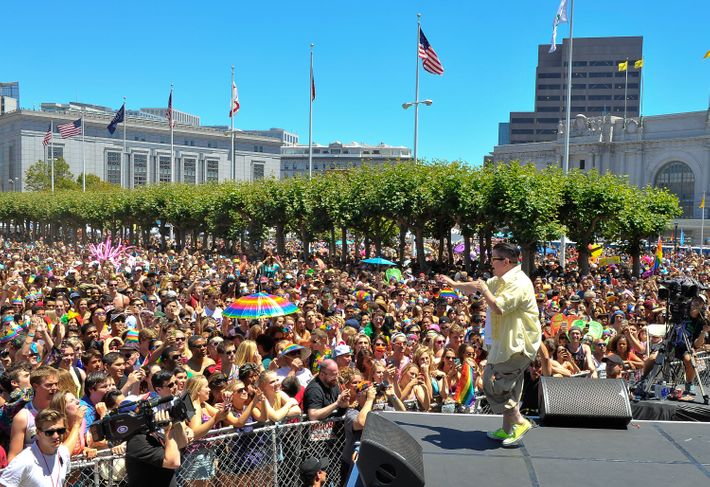 Pride Celebration
June 23 to June 24 (hours vary) at City Hall in Civic Center Plaza
This year's Pride Celebration promises an exciting lineup of performers like Kehlani, Le1f, and House of Pride, as well as speakers like Compton's Cafeteria Riot; an interactive theater piece inspired by the riots that fueled transgender activism in San Francisco; an appearance from Gavin Grimm, the teenager who won the landmark case in Virginia allowing him to use the restroom that matched his gender identity; and Dr. Cynthia Gomez, an advocate for Planned Parenthood.
Pride Parade
June 24, 10:30 a.m. at Market Street, from Embarcadero to Civic Center
One of the largest annual parades with over 100,000 spectators, this year's event will have over 270 contingents and more than 20 stages and venues. The grand marshals for the event will be Our Lady J, Jose Xtravaganza, and Luis Camacho, with special guests Gavin Grimm and Silas Howard.
Trans March
June 22, 11 a.m.-8 p.m. at Dolores Park
Kicking the march off with coffee and doughnuts at Good Vibrations Valencia, this year's event will host a "Youth & Elder Brunch," a resource fair, a family area, and numerous speakers at San Francisco's Dolores Park throughout the day. Led by one of the city's classic trolleys, the march will pause to honor trans history and the landmark of the Compton's Cafeteria Riots and Vicki Mar Lane.