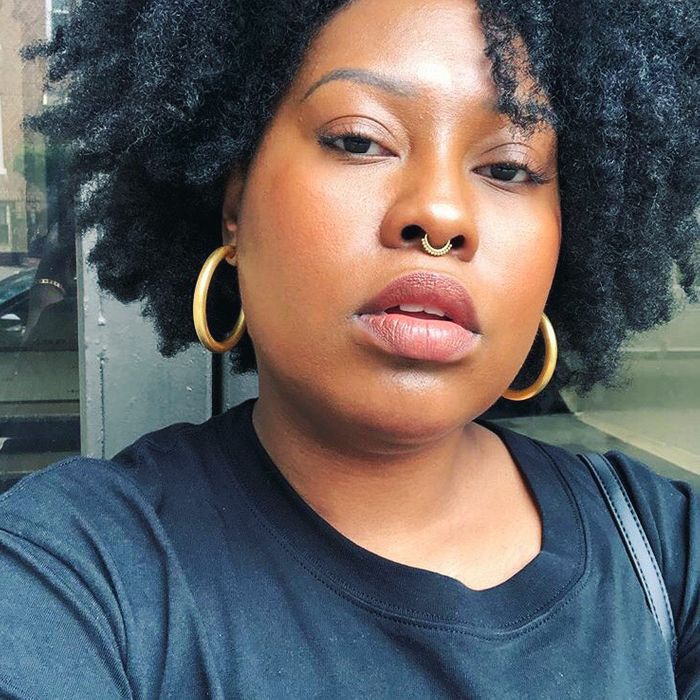 My summer beauty ethos is mostly influenced by music videos and movies from the early 2000s. Think Keisha (played with girlish aplomb by Taral Hicks) when she first appears onscreen in Hype Williams's Belly, her lips and skin lambent in the dark blue light of her bedroom. Or Jennifer Lopez, velour-clad and lissome, grinding up against Ja Rule in the music video for "I'm Real," her face and skin the literal embodiment of golden. To look like a video model circa 2001 — at least to me — means perfect, dewy skin, a nude lip punctuated by dark lip liner, and warm tones to highlight the cheeks.
This is a look intended to direct all the light in the room toward your own face. I detest glitter, except occasionally in lip gloss, so I typically stay away from "glowy" products, which are often synonymous with "glittery," and aim instead for "dewy," which I think of as a corollary to "oily." Your skin is bound to be slick in the summer, so my beauty routine is tailored around working with that wetness as opposed to against it. Wet, dewy skin looks more alive and frankly more sexy to me than this flat, Kardashian-inspired, powdery face which has invaded my Instagram like a virus.
As far as skin care, I generally exfoliate frequently, pile on serums and oils, especially at night, and mask as frequently as I can. These are my favorite products.
The Toner That Changed It All
I used this for the first time one evening at about 6:45 p.m., before heading to a movie and a bar. By the time I stumbled home at 4:50 a.m., the hormonal breakouts around my chin had basically melted, and by the following week, the hyperpigmentation left behind by a previous breakout had similarly disappeared. I use the original 1970 version, which has plenty of lactic acid to make your skin glow along with phenol, an antiseptic which helps prevent the formation of acne. It does burn, but I think it's worth it. I credit this product with normalizing my skin so that it's not too oily or dry. Use it at nighttime, on a cotton pad.
The Serum for Fading Your Scars
I bought this to help speed up the fading of my remaining scars from a bad hormonal breakout. It's important to note that there is a difference between a scar — which is often an "ice pick" or "box car" shaped indentation — and post-inflammatory hyperpigmentation, which is the residual discoloration left behind from a breakout. This serum, intended for use during the day, will help speed up the fading of the latter. It's a bit of a splurge, but the price is justified by the air-tight, light-proof container, which extends the shelf life and stability of the product, as well as the high percentage (15 percent) of the active compound.
The SPF to Keep Your Skin Perfect
My friend Shamira, a native of Comoros, told me yesterday that her mother and aunties on the island use a paste made of sandalwood as a sun protectant. It's an ancient practice, handed down from prior generations. My point is that "Black don't crack" is a lie; you absolutely must work to protect and preserve your skin, as black people aways have. I also notice a visible reappearance of some of my faint acne scars when I don't use adequate SPF. So use it! This one is light and non-irritating and works as a perfect base for makeup.
I have been raving and tweeting about this product for a week. It's warm and bright, the exact color of a persimmon, which is a perfect complement to my yellow undertones. I dot a tiny bit onto the apples of my cheeks and blend out toward my temples. One tip: If you smile when you apply this blush, you can see how far the lines under your eyes extend. Don't let it get too close to your under-eye, or you run the risk of looking clownish.
I have spent an obscene amount of time analyzing the merits of beauty supply lip glosses, which typically retail for $1, versus more expensive, name-brand clear glosses. I've concluded that there are two main formulations of beauty supply gloss: thin and watery (which results in a slicker, high gloss shine), or thick and goopy (less shine, but longer-lasting, and can also leave your lips feeling gritty and dry). Neither is entirely desirable; still I reach for one every time I visit a beauty supply. My current favorite gloss is this one from Glossier, which lasts a lot longer and is way less sticky, with a luxe, silken texture. It reminds me of the roll-on beauty supply glosses I wore all my 14th year, and the boy I'd hoped would notice.
Another relic of the early aughts/1990s that I've never forsaken is the neutral lip with a darker liner. M.A.C's lipstick in Taupe is my perfect nude, so if you are my shade (M.A.C NC45, Fenty 390, "Almond" in Bobbi Brown) and have a similar yellow/gold undertone, I'd try it. Taupe is described by M.A.C as a "muted reddish" tone. It's deceptively ruddy in the applicator, but it's perfectly complementary to my skin when applied.
I don't understand why we're not all wearing lip liner 24/7. I like Chestnut, a warm brown liner from M.A.C, to really define the shape of my mouth, topped with clear gloss. When I think of how I want my lips to look, I think of Melissa Ford, whose slow, lurid application of her lip glass in a Jada Kiss video has been embedded in my memory since the song debuted 17 years ago.
This is a product I typically use at night, as sun exposure can irritate the skin and deactivate the ingredients. I use the 5 percent formulation, which instantly plumps and hydrates my skin (probably due to the squalene) and also helps get rid of any unsavory texture, especially along my temples, where I'm prone to breakouts. Every time I think of Brandon Truaxe's continued public spiral and the inevitable chaos it is bound to induce into Deciem, I'm tempted to go buy another vial of this while I still can.
Niacinamide is a vitamin B3 derivative which improves the general texture and clarity of skin. With regular use, it mostly helps soothe any active blemishes I have while preventing future ones. I use this serum during the day, when I don't use the Drunk Elephant (vitamin C can deactivate vitamin B3.) The texture is snotty and sticky, but if you use less than half a dropper and rub the product between your fingers before applying, it's perfect.
The Powder That Isn't Too Powdery
There is an endless selection of powders on the market across every price range and skin tone, but I've remained loyal to this one for summer. It's light but effective. Sephora has a good house-brand pressed powder that's cheaper, but it provides a bit more coverage than I'm interested in. This one, by contrast, doesn't result in a "powdery" looking face, allowing the natural shine and texture of your skin to peek through.
The Concealer That Brightens
I once wandered into a Sephora in downtown Chicago and was instructed to purchase a concealer which was "two, maybe three" shades lighter than my natural skin tone. I think the idea of a hyper light under-eye area is largely Kardashian-influenced, and I know that this is not a trend which I'm interested in pursuing.
I use this concealer, which is basically the same shade as my skin, dotted just under my eyes and in the corners to brighten them — none of that "using concealer to draw an Isosceles triangle under the eyes" mess. On especially haggard days, I add a dab of the Bobbi Brown peach color corrector.
The Foundation That's Like a Concealer
Bobbi Brown features heavily in my beauty routine, mostly because when I became interested in makeup in high school, hers was one of the only department store brands to carry my shade. Inclusivity, a nascent trend among beauty brands of late, has always been the grounding philosophy of the company. Bobbi's theory that everyone has yellow undertones also makes navigating her shade range enticingly simple. I dot little bits of this stick foundation on the remaining dark spots I have, as well as around my nostrils and mouth. Essentially, I use it as a concealer. It also covers my upper lip when I don't have time/money to get it waxed.