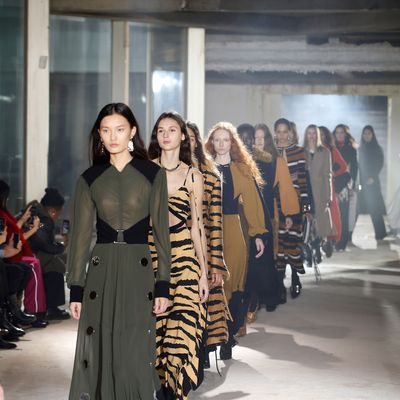 The finale from Proenza Schouler's fall 2018 show.
Photo: Laurent Viteur/WireImage
Last year Proenza Schouler announced that the brand would be moving their shows to Paris and skipping the traditional Fashion Week schedule. For both their spring and fall 2018 shows the duo opted to present when the haute couture collections normally present, which is July and January respectively. But today an Instagram posted to their account let everyone know: they're baaaaack.
It reads in part: "It's been a fun ride showing the past two seasons during couture (thank you Chambre Syndicale) but NY will always be home so we are coming back for Spring Summer 2019. In today's world, when, where and how one shows can be looser and more fluid than ever and so for now, NY is our home once again."
Given that Alexander Wang has moved his shows to June and December while Altuzarra and Thom Browne (two other New York mainstays) are remaining in Paris for now, Proenza Schouler's homecoming is a welcome addition to the September schedule. Of course it's only June so who knows what other designers are making moves this fall.