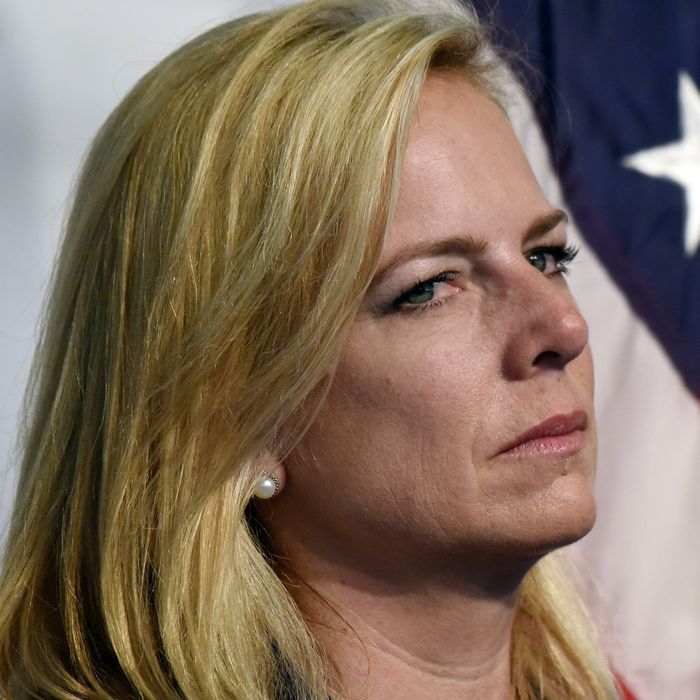 Such uncivilized behavior.
Photo: Handout/Getty Images
Kirstjen Nielsen has undergone a remarkable transformation in recent days. Before the Trump administration's policy of separating children from their parents at the border gained national attention, she was a less well-known Cabinet member, and she reportedly considered resigning after President Trump berated her at a meeting for failing to secure the border. As a veteran of the George W. Bush administration, she was viewed with distrust, and some Trump officials were reportedly hoping to use the border crisis to scapegoat and fire her.
Then at Monday's White House press briefing, Nielsen offered cold, technical responses on children being ripped away from their parents, and claimed falsely that only Congress can fix the issue. CNN reports that members of the Trump administration were impressed:
The unenviable task seems to have paid off for Nielsen internally. The President's praise was echoed throughout the halls of the West Wing this week when multiple officials lauded Nielsen for a job well done after she sparred with reporters during the particularly tense White House briefing Monday, two people familiar with the reaction told CNN.
Outside the administration, however, Nielsen became the face of one of the Trump administration's biggest and most heartless crises so far. Apparently Nielsen did not anticipate this — or she was trying to double down on her tone-deaf performance — because she opted to have dinner at MXDC Cocina Mexicana, a popular Mexican restaurant near the White House, on Tuesday night.
Inside, Nielsen was confronted by protesters from the group Metro D.C. Democratic Socialists of America. While Secret Service agents prevented the demonstrators from approaching Nielsen and her companion, they were able to stand in the restaurant and heckle Nielsen about the family separation policy. Video shows this went on for at least ten minutes, as Nielsen looked at her phone and didn't acknowledge the activists.
"She was in the corner on her phone, just staring at her phone. Not engaging at all," witness Erica Olmstead told the Daily News. She said some other patrons were noticeably "ambivalent" about the scene, but others joined in, clapping and chanting at Nielsen.
"We will not stand by and let Secretary Nielsen dine in peace, while she is directing her employees to tear little girls away from their mothers and crying boys away from their fathers at our border," Margaret McLaughlin, a member of Metro D.C. DSA's steering committee, said in a statement. "Secretary Nielsen and everyone else who has carried out these brutal and cold-blooded orders to rip apart families should never be allowed to eat and drink in public again."
Slate's Osita Nwanevu said Nielsen quickly called it a night:
While the video shows Neilsen ignoring the protesters, DHS spokesman Tyler Houlton tweeted out a statement that made it sound like she engaged with them. Houlton also reiterated the false suggestion that only Congress, not the president, can stop the separation of migrant families.
Nielsen had reportedly "clashed privately" with Trump over her opposition to implementing a policy that would tear families apart. But aside from having her dinner disrupted, abandoning her convictions seems to be working out nicely for her.