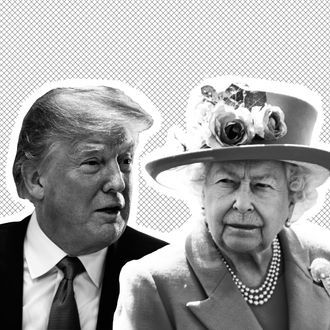 Donald Trump and Queen Elizabeth.
Photo: Al Drago-Pool/Mark Cuthbert/UK Press/Getty Images
Ah, Windsor Castle. On May 19, Meghan Markle and Prince Harry had their beautiful royal wedding at that very venue — complete with a sea of flowers, a performance by a gospel choir, and a powerful sermon that touched on the civil-rights movement. And less than two months later, Windsor Castle will again be the site of an important royal occasion — only this diplomatic event will be … uh … less inspiring.
On July 13, President Donald Trump is scheduled to meet with noted Trump joke-maker Queen Elizabeth, U.S. ambassador Robert Wood Johnson confirmed to Sky News. Trump will be in the U.K. on other business, but will meet with the queen as well. The visit will not be an official state visit — as in, there won't be an actual formal reception at Buckingham Palace — but the meeting will reportedly take place at the royal wedding venue of Windsor Castle.
Johnson explained to Sky News, "I mean he has to see the head of state. Putting his foot on British soil, it's job one, it's very important, very symbolic. Meeting Her Majesty is the most important thing, because she's the head of state, and from then on, it'll be what the president wants to do."
The exact venue hasn't been officially confirmed, but Windsor Castle's website says it is closed to the public on July 13, which pretty much signifies that the visit would occur there. We wonder if Trump will get to fulfill his dream of riding in the queen's gold carriage while turning this otherwise blessed location into a deeply cursed one.