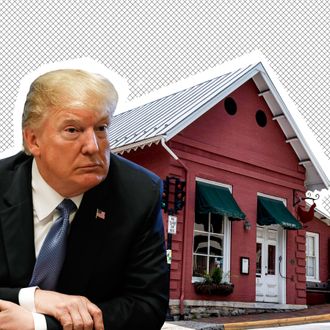 Donald Trump and the Red Hen.
Never one to miss an opportunity to punch down, President Trump on Monday morning tweeted his thoughts about the Red Hen, a small farm-to-table eatery in Lexington, Virginia, whose owner asked White House press secretary Sarah Huckabee Sanders to leave on Friday night because of her work in an "inhumane and unethical" administration.
It is unclear where the president got his information regarding the cleanliness of the Red Hen, which is located approximately 200 miles from the White House. But Trump certainly has experience with restaurants falling short of prescribed hygiene standards.
According to a 2017 Fox News report, the president's Mar-a-Lago resort was cited for 78 health-code violations in three years, including dirty cutting boards, chefs preparing food without washing their hands, and an "accumulation of 'black/green mold-like substance' in the ice machine."
The resort was slammed with 13 health-code violations in January 2017, several of which were classified as "high priority" violations, such as improperly refrigerated meat, and serving unsafe seafood.
In an interview with the Washington Post this weekend, the Red Hen's owner Stephanie Wilkinson explained that she asked Sanders to leave after speaking with her staff, several of whom are gay, and many of whom have been shaken by the recent reports of immigrant children being separated from their families at the U.S.–Mexico border.
Wilkinson told the Post she said to her staff, "Tell me what you want me to do. I can ask her to leave," and "They said 'yes.'"
With "bullying small business" ticked off his to-do list this morning, perhaps the president can get back to his main passion — furiously fondling flags.
The Cut has reached out to the Red Hen for comment, and will update when we hear back.