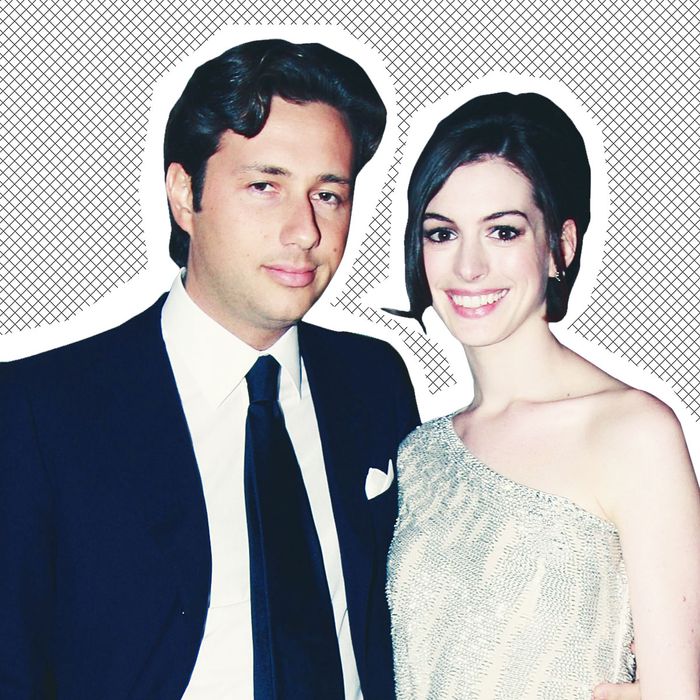 Photo: Will Ragozzino/Getty Images
Ocean's 8, a film about eight elegant con women who rob the Met Gala, is arguably the Summer of Scam's most high-profile project. Yet for one of the lead actresses, the film's high-stakes heist plot has a surprising amount in common with a particularly eventful chapter in her own personal history.
Let me take you back to 2008, when Anna Delvey was just a twinkle in the eyes of some made-up German oligarchs, and Anne Hathaway's newly ex-boyfriend Raffaello Follieri was pleading guilty to 14 counts of wire fraud, conspiracy, and money laundering. While Hathaway allegedly had no knowledge of her misdeeds, the young actress found herself entangled in one of New York City's most juicy scams, one that ensnared everyone from the Clintons to Trump to John McCain in its sticky web.
The Italian born Follieri, son of a lawyer and a mathematics professor, moved to New York in 2003, when he was 25. Soon after, he started the Follieri Group, a company whose ostensible goal was to help the Catholic Church unload their real-estate properties amid financial fallout from the child sex-abuse scandal. Follieri garnered investors by claiming that he had a close personal connection to the Vatican (he did not) that enabled him to buy Church properties at below-market rates (he could not). Yet Follieri, committed to the ruse, installed an altar in his office, had a nun as his receptionist, and kept ceremonial robes in his office.
He also started dating a young, up-and-coming actress named Anne Hathaway. "It was totally love at first sight," said Hathaway in an interview, according to Vanity Fair. "He is sooo good-looking … He looks like a God."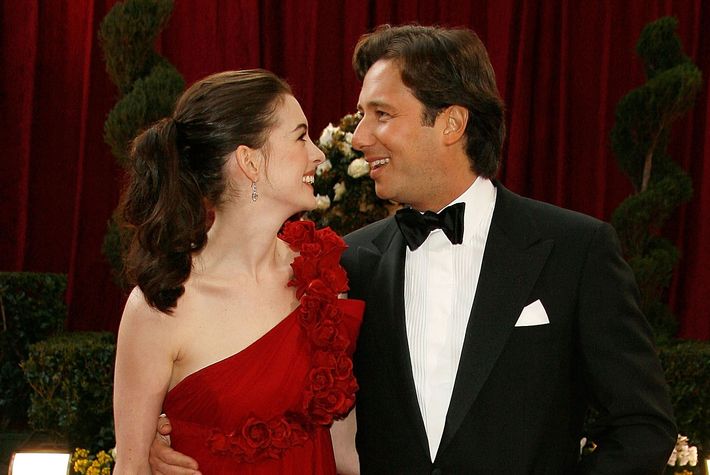 As we would all find out later, Follieri's God-like good looks weren't actually helping him buy up church properties; rather, he was racking up huge debts and using investors' money to furnish his lavish lifestyle, which included an elite dog-walking service for his brown lab, a $37,000 a month apartment in Olympic Tower, a rented yacht for him and Hathaway in the Mediterranean (on which John McCain inexplicably joined them), $30,000 to fly his doctor to London for a "minor ailment" and $107,000 on a chartered jet to take him and Hathaway to a New Year's Eve party at Oscar De La Renta's place in the Dominican Republic (also attended by the Clintons).
Follieri's "success," much like Delvey's, came largely from being a prolific networker who made friends in high places. After intimating that he planned to write a whopping check to the Clinton foundation, Follieri caught the ear of Clintonworld top-dog Doug Band, who helped Follieri expand his venture by granting access to his extensive Rolodex. Per The New Republic, "Follieri courted Band by playing on his taste for the high life" and "with Band's help, Follieri got meetings with, among others, Clinton himself, Burkle, and Carlos Slim, the richest man in the world, aboard Slim's yacht in the Sea of Cortez." In 2006, Bill Clinton even invited Follieri onstage at a Clinton Global Initiative gathering to thank him for a pledged $50 million donation (the money never showed up). Most importantly, Band introduced the slick Italian businessman to Clinton's business partner Ron Burkle, who was wooed by Follieri's pitch and ultimately committed up to $105 million to fund a joint venture with Follieri.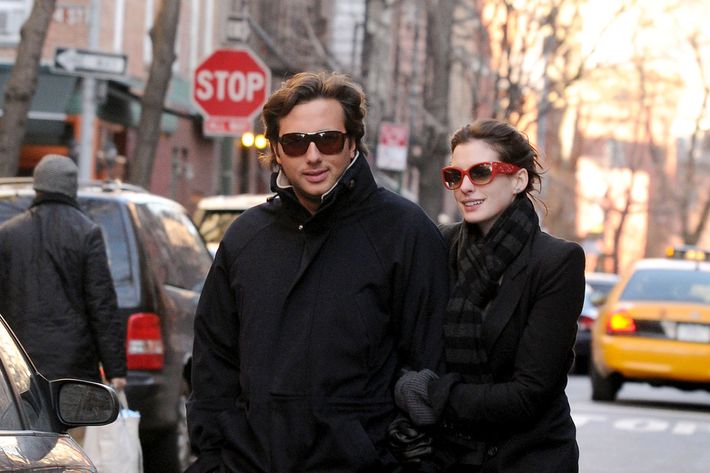 Eventually the house of cards came crashing down. In 2007, Burkle filed suit against Follieri for misappropriating funds to the tune of $1.3 million. They settled, but the legal storm was only just beginning. In 2008, Hathaway dumped Follieri. Ten days later, the FBI dragged Follieri out of the Trump Tower penthouse he had gifted to his parents (of course!), where he was sleeping in a spare bed since losing the lease on his own place.
Wanna hear a quote from Trump about the whole mess? Of course you do!
"She [Hathaway] hasn't remained very loyal to him, has she?" Trump told Billy Bush in 2008. "So when he had plenty of money, she liked him, but then after that, not as good, right?"
To be clear, none of this is to imply that Anne is herself a scammer, although she certainly got a first-hand view of a con-man's rise and fall. When Follieri was indicted, Hathaway was forced to hand over thousands of dollars worth of jewelry that Follieri had given her, and authorities seized Hathaway's private journals as part of their investigation. At the time, some speculated that without her high-profile name attached, Follieri would never have taken such big risks, or such a public fall.
"Looking back, I think it was all done to impress Anne," a source told Vanity Fair.
Follieri ultimately served four-and-a-half years in jail and was deported to Italy, where he lives now. Hathaway, meanwhile, is happily married to a man named Adam Shulman, who has so far not been revealed to be a con man. Now, befitting the magical season that is the Summer of Scam, Hathaway is starring in Ocean's 8, pulling the biggest heist of all: stealing the whole film. We sure hope she's getting the last laugh.