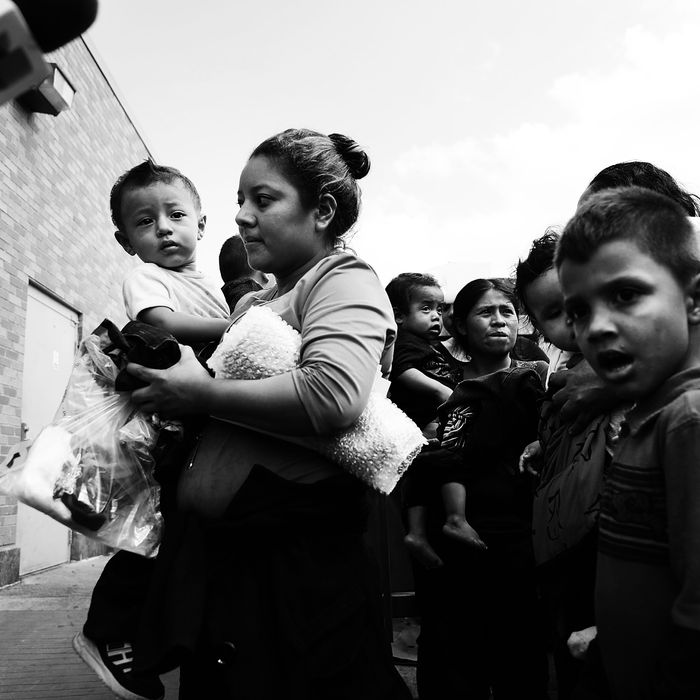 Women and children at a bus station in McAllen, Texas, following their release from U.S. Customs and Border Patrol.
Photo: Spencer Platt/Getty Images
This weekend, the Department of Homeland Security and the Department of Health and Human Services released an outline of their new plan to reunite the thousands of immigrant families that the U.S. government separated under the Trump administration's severe "zero-tolerance" policy, under which more than 2,500 terrified children were sent to detention centers alone.
Last week, after facing intense backlash from the press, protesters throughout the country, every single living former First Lady, and the U.N., President Trump signed a misspelled executive order ending the short-lived family-separation policy. However, he offered no plan for how to reunite the families who had already been torn apart.
According to DHS and HHS's joint release, 522 detained immigrant children have been reunited with their guardians, and 2,053 more are still in custody in HHS-funded facilities. Here's what to know about how the government plans to reunite them with their families.
Children will stay in custody as long as their parents' deportation proceedings are under way, or until they can be found a sponsor
Under the administration's new policy, children will remain in federal detention centers or possibly government-subsidized shelters (some of which, as Reveal reported last week, have documented histories of abuse) until their parent or guardian has completed their deportation proceedings, or until they can be found an appropriate sponsor. This sponsor could be an adult relative or a family friend. How long this takes varies from case to case.
According to Megan McKenna, the senior director of communications and community engagement for Kids in Need of Defense (KIND), an advocacy and legal-support organization for immigrant children, many of those coming over the border from Mexico apply for asylum in the U.S. — but the process of obtaining asylum is incredibly difficult and time-consuming.
"The parents have to pass credible fear interviews first — part of the process of seeking asylum," she told the Cut. "Many of them do pass credible fear, and then the asylum process can take years."
If a parent is granted asylum, they have to apply to be a sponsor for their child
If a parent is granted asylum, and they somehow know where their child is (this is not a given, and we will get into it more below) they still may need to wait before they can be reunited. A parent who has been released from detention pending their asylum claim or after they win their case will have to apply to be a sponsor through ORR's regular reunification process which can take several weeks, McKenna explained.
"Under the Obama administration, it took about one month for a child to be released to a sponsor," she said. "This average time period has been increasing under the Trump administration."
It's not clear what agency is in charge of reunification
Currently, the work of detaining, processing, and eventually reuniting children and their families is divided between the Department of Homeland Security and the Department of Health and Human Services. According to the two departments' joint statement, the 2,053 separated children currently in custody are being held in HHS-funded facilities; the Office of Refugee Resettlement, which has been working with separated families, falls under HHS.
But many immigrants are detained by U.S. Customs and Border Protection, a branch of DHS. In addition, ICE — another branch of DHS — has also dedicated its Port Isabel Service Processing Center as its primary family reunification and removal center for adults in their custody.
So far, CNN reports, no federal agency has been designated as the main keeper of parents' and childrens' data and whereabouts. This makes for a complicated, messy web of bureaucracy that immigrant families and their lawyers must try to navigate in the hopes of being reunited.
What's more, many children have been taken hundreds of miles away from the border and their parents. At least 239 separated children have been taken to a facility in Harlem, according to New York Mayor Bill de Blasio, and 66 children are being held at a facility in Chicago.
Some parents are being given the option of voluntary deportation in order to be reunited with their children
If parents are not granted asylum, officials say they'll be reunited with their children before being deported. According to a report from CNN, separated parents have been offered the option of signing "voluntary departure orders," under which they agree to be removed from the country more quickly, without first appearing in front of a judge.
An administration official confirmed this practice to CNN, saying it's an option available to all detained immigrants — but immigration lawyers say it isn't really a choice, and there's no proof that it's faster than going through a full deportation hearing.
"We have no reason to believe that (voluntary deportation) is the fastest way for parents to be reunited with their children," Efrén Olivares, an attorney with the Texas Civil Rights Project, told CNN. "Putting them in that position is not a voluntary (deportation); it's being obtained under duress."
Tracking down children is very difficult
So far, the responsibility for reuniting families has fallen on the shoulders of immigrant parents and guardians. There is often no system in place to help them do this, and even with the help of a lawyer, it can be nearly impossible to move forward if the parent is in custody.
In their outline of the administration's new reunification plan, HHS provided the number for the Office of Refugee Resettlement's National Call Center (1-800-203-7001). But as Erik Hanshew, a Texas public defender, explained in an op-ed for the Washington Post last week, the process is "chaotic and byzantine."
Some investigators in his office have waited up to an hour to get someone on the line. And once they do get in contact with someone from ORR, there are even greater hurdles:
[…] their inquiries are met with vague statements that the child is in the United States. The ORR demands to speak directly to the parent of the child. We explain that the parent is in federal custody at local detention facilities, to no avail. We ask the local jails to facilitate the calls with the ORR. It took more than an hour for one call to be set up, so the jails stopped doing it. 
Echoing his concerns, Wendy Young, the president of KIND, told CNN that finding a detained child is "incredibly challenging, and what I fear is that it might, in some cases, be impossible."
Immigrants' rights organizations are working with separated families. Here's how you can help them in their mission.
As the government struggles and fails to figure out a reunification system, many nongovernmental organizations, like KIND, RAICES, and the Texas Civil Rights Project, have stepped up to help and advocate for the people affected by the Trump administration's family-separation policy.
For more ways to help, see the Cut's guide here.
This post has been updated to reflect that detained children can be released from custody before the end of their parents' deportation hearings if a sponsor is found for them.