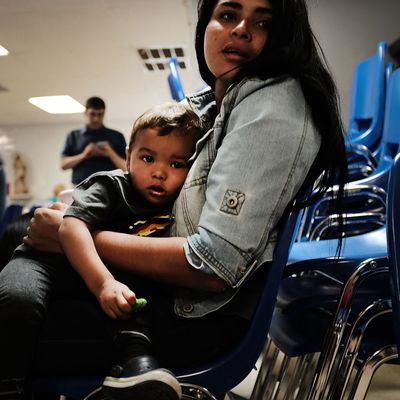 Photo: Spencer Platt/Getty Images
President Trump may have signed an executive order ending his own family-separation policy — one that's been condemned as a human-rights violation and child abuse — but of the roughly 2,300 immigrant children who have been ripped away from their families at the border over the past couple of months, only 500 have been reunited with their families. That leaves around 1,800 who still remain separated, many of whom will likely never see their parents again: As the Washington Post reported yesterday, the government has no real organized plan to get kids back to their families; earlier this week, John Sandweg, the former head of ICE under President Obama, told NBC News that many of these separations will likely be permanent, "creating thousands of immigrant orphans in the U.S."
Among those 500 children are 7-year-old Darwin Micheal Mejia, a Guatemalan boy who was reunited with his mother today after she sued the federal government for his release, and Yanela Hernandez, the 2-year-old Honduran girl whose terrified face has become an iconic symbol of the Trump administration's family-separation policy, and whose father recently reported that she is now in a Texas shelter with her mother. And NPR noted yesterday that 6-year-old Alison Jimena Valencia Madrid, from El Salvador, may now be returned to her family after audio secretly recorded inside a detention center picked up on her reciting an aunt's phone number.
These stories, though, are far from happy endings, especially for those who remain in detention with their families. At a panel yesterday at Spotlight Health, a conference put on as part of the annual Aspen Ideas Festival, experts in children's mental health discussed the effects of the family-separation policy on children's mental health — and even for the minority of children who are later returned to their families, reunification doesn't end their trauma. Instead, it begins a new chapter in which parents have to work to make their kids feel safe again, regain their trust, and reconcile that the children they're getting back are not the same children who were taken from them.
"He will look like her son," Ann Thomas, president and CEO of the Children's Place, an agency in Kansas City that works with traumatized children, said of one particular case of a mother getting her child back, "but he may not respond the same way."
Children are egocentric, she explained, and may believe that they somehow caused their own separation — which can leave them deeply suspicious of their parents, and unwilling to return to the level of emotional closeness they had previously shared.
"It's not uncommon to think, Mom, why did you leave me?" Thomas said. "He may not just run into her arms."
"There's a fear of Will this happen again? What if I do something wrong, are you going to leave me again?" agreed Colleen Kraft, president of the American Academy of Pediatrics.
In some cases, Kraft added, the time apart can rewire the architecture of the child's brain — something especially true for the youngest children, many of whom are being housed in separate "tender age" facilities. "The brain needs to be developed deliberately," Kraft explained: In early childhood, the brain begins pruning away some neural connections while strengthening others, and environment and experience determine which ones go which way. In a nurturing, healthy family setting, the neural connections that get strengthened over time are for things like forming social bonds, learning new things, responsiveness, and resilience. When children are continuously exposed to a toxic level of stress, on the other hand, "the strong connections that are built are fear, aggression, anxiety."
Which, in turn, means that the parent-child bond, for those families lucky enough to recapture it, will be different than it was before the trauma of separation — more fragile, more fraught. After enough time in detention centers, deprived even of comforting human touch, "healthy relationships feel foreign to them," Thomas said.