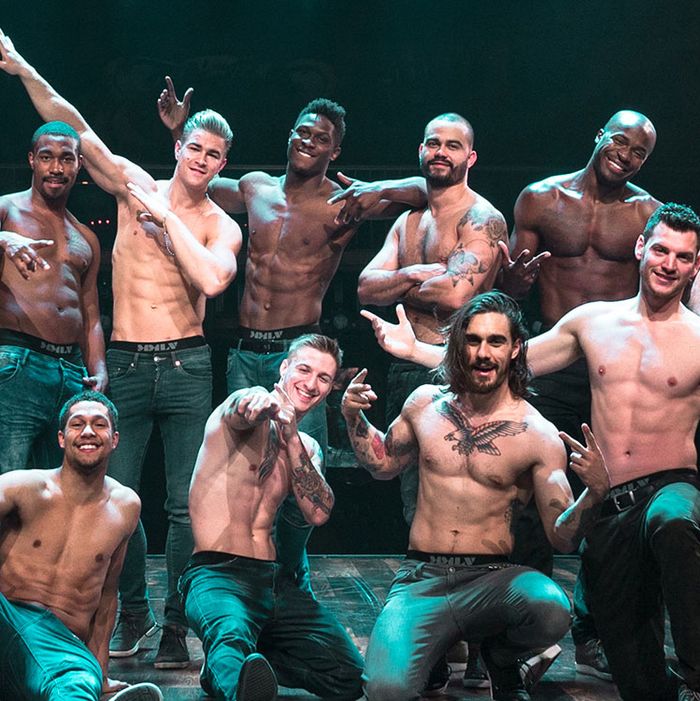 Photo: Magic Mike Las Vegas
"Ladies, let me ask you this: Do you feel powerful tonight?" The female emcee of Magic Mike Live: Las Vegas wears a BeDazzled blazer, tight leather pants, and sturdy high-heeled boots. She clutches a glittery microphone. We, an audience of bachelorette parties, mother-daughter weekends, girls trips, 30th birthday parties, and, presumably, pharmaceutical sales-rep offsites, answer in the affirmative by wooing as loudly as possible. "Good," she shouts back, "You should."
We feel powerful because it's Saturday night in Las Vegas at the Hard Rock Cafe, but it is also Saturday night at Club Domina in Tampa. Domina is, of course, the fictional club from Magic Mike and Magic Mike XXL, both of which star Channing Tatum.
I am at the Hard Rock Cafe/Club Domina with six of my closest female friends. We sit in the second row behind the stage, sweating in bright, club-kid style wigs. (It is Vegas, after all.) We lived together in New York at one time, but over the years we've decamped to different parts of the country; now the fourth consecutive member of the group was making her move to L.A., and Vegas was the last stop at the end of an epic, ten-day road trip across the country.
Here is one thing I know to be true: New York City is the best city in the world, and your 20s are best spent there. Unfortunately, this is not up for debate. If you have already done this or are in the middle of doing this, congratulations, and I hope for your sake that you have a group of women to help you navigate this time. Because here is another thing I know for certain: Those friendships are the foundation for what comes next. You'll change cities or jobs or partnerships, and you'll be brave enough to do it because together you navigated being young and having terrible sex in New York. You want to buy a house now that you're in your 30s? Piece of freaking cake.
But anyway, Magic Mike.
For a group of horned-up women who know everything about each other's sex lives, and who also happen to love a goddamn spectacle, Magic Mike Live was the logical last stop. Over and over again, we are reminded that this is a night about us, women. (Well, straight women.) For once, the men are here to amuse us. Unlike strip clubs for men that feature female dancers, absolutely no one here believes that the possibility of sex is real; in fact, it's very likely that many of the dancers are gay. But the purpose of the show isn't sex. It's freedom. In a city that is the backdrop for movies like Very Bad Things and Leaving Las Vegas, a city that is decidedly not for women, the team behind Magic Mike Live has taken the idea of "a safe space for women" — an idea abstract enough that it just sounds like a PR nod — and somehow made it a real shared experience for capital-L Laaaaadies. Other than the all-male staff, I never actually see another man at Club Domina. The host makes a joke about how she hopes the "two men here are enjoying the show," so I'll take her word for it. Even though this is a show that features naked men with, collectively, the most abs I've ever seen, this isn't really for gay men. This isn't for any men at all.
The original Soderbergh-directed Magic Mike is loosely based on Channing Tatum's early years as a stripper. It was a huge hit. After the success of the sequel, in 2016, Tatum brought the live show to Vegas. He also brought along Alison Faulk, the films' choreographer, Lyndsay Hailey, a performer and writer who co-wrote the live show with him (and also happens to be tonight's host), and several female costume designers. Tatum's presence is everywhere — his pre-recorded voice welcomes us to the club; his vodka, Born and Bred, is in my drink — but there is absolutely no mistaking that this show was written by and for women.
On stage, the emcee introduces each of the 14 cast members. They've been planted throughout the theater, and when she calls them, they rise, shirtless, out of the screaming crowd like Aphrodite from the frothy sea. There's no denying the show's heavy-handed point about how they have something for every woman present: The emcee introduces "Tattooed White Guy," "Dark Chocolate," and "Sexy Asian." In Club Domina, where the wine flows like Born and Bred and the paper money has the faces of the male dancers printed on it, political correctness does not exist. A few songs later, Latino Guy, clutching a handful of roses, dances a sexy tango solo.There's also French Guy, who makes aggressive eye contact with one audience member while sexily murmuring, "Où est la bibliothèque" (I'm sure). One guy is introduced simply as, "And this guy just has a steady job!"
The men, most of whom, according to their website bios, are classically trained dancers, are also bona fide muscle hunks. Their torsos look like Christmas stockings overstuffed with clementines. Watching them sing solos and duets with their shirts off is akin to attending the symphony and being seated inside the piano, the dancers' abs twitching and contracting with every note. They descend and ascend from platforms and hang suspended above us by ropes that disappear into the ceiling. There are ensemble cast numbers that resemble an overcrowded Backstreet Boys performance: they jump-switch and crisscross their shirtless bodies all over the stage. They perform these moves in denim, which is impressive; they perform them in leather, which should be award-winning. At one point, the whole cast performs on the stairs behind us wearing three-piece suits. One of the boys — Music Guy, I guess — sits at a white piano. Atop the piano is sprawled an older woman in a feather boa. Atop the older woman in a feather boa is sprawled one of the dancers. He gyrates respectfully above her as she screams in delight. Two women who appear to be in their 40s stand off to the side taking pictures and screaming, "Yassss, Mom!"
There isn't much of a plot to the live show (or the movies, for that matter), but if I had to point to some sort of through line, I would say it is the Education of "Mike." Mike looks like your waiter at brunch who will later reveal to you that he does improv and sleeps on a box-spring mattress on the floor. Dressed in a button-up shirt, jeans, and work boots, Mike, the host informs us, doesn't know a thing about women's pleasure, and it's up to us to teach him. He is completely entranced by the emcee, and follows her around like a lost puppy dog, if that puppy dog wanted desperately to learn how to go down on a woman.
Mike, this stand-in for all the men my friends and I had bad sex with in our 20s, plays the part of the fool: he's totally ridiculous, and is willing to be totally humiliated if it means he can learn how to fulfill a woman's sexual fantasy. Mike does not know where he has been or where he is going, only that he must learn how to be a thoughtful, consent-seeking sex maniac. Later, after one of the dancers sings a powerful ballad about the importance of finding your own pleasure through masturbation, Mike and the emcee return. He takes a running leap on stage and slides across it on his knees to come to a full stop with his head in the emcee's crotch, as though magnetized by her vagina. We cackle like witches at him, this idiot man who is is under our control.
As the show nears its finale, the emcee commands Mike to pull a woman on stage in order to demonstrate everything he's learned so far. The audience has gone feral with freedom and pheromones; I stand up and cheer so loudly that the teal wig I am wearing flies off my head. Once again, a platform dramatically descends from the ceiling — this time, it contains about three inches of water. It rains lightly above the platform, and when we see the water we lose our shit. We've seen Nicholas Sparks movies; we know what rain means.
The woman Mike has pulled on stage feigns hesitation at first — she doesn't want to get her hair wet, she's shy — but within seconds it's clear that she is a plant and a professional Magic Mike Live dancer. What follows is a kind of sexy Swan Lake in a baby pool. I want to say the crowd has stopped cheering, but it could be that I have blacked out. We have transformed into that cartoon of the wolf in a tux, eyes bulging out of our heads, big red tongues plunked down on the table. Here is the perfectly choreographed dance version of so many straight women's fantasies: fun, wild, throw-you-around sex, where no one fumbles for a condom or trips on their way out of a pant leg. As one of my friends put it later, "It was in no ways nasty. But also, it was NOT gentle." I suddenly and sadly realize that the reason this naked sex dance is good and not gross is that this too was conceived for women. A heterosexual sex scene made for a woman? Can you even imagine? Think about most of the sex in movies or TV. If it's between a man and a woman, the woman's sexual experience is usually depicted as an afterthought. Heterosexual porn? For men. Game of Thrones sex? For men and virgins. (As of 2015, there were 50 rape scenes depicted on that show alone.) "It makes you realize how much bad sex you've had in your life," one friend yelled to me.
Here we are, this audience of nearly 500 women, all of whom have experienced our own bad to horrifying sexual experiences, cheering for what looks to me an awful lot like sexual freedom. Because obtaining real sexual freedom for women means learning what you like and how to ask for and demonstrate it. It takes a long time — and yes, a lot of talking it through with your friends — to really understand that sex can be re-centered around your pleasure. Mike serves as a kind of cipher for this coming-of-age realization in the show. And if he makes you realize how much bad sex you've had in your life, he also makes you vow to never have bad sex again.
Now that I am suddenly a huge supporter of the arts and of dance specifically, I take a break and go the bathroom. In the stall next to me, I hear an incredibly drunk woman crying about how she doesn't want to be incredibly drunk anymore. Before I can ask if she needs help, I hear her friend in the same stall comforting her. "You just gotta barf, girl," she wisely soothes. "It's the only way to feel better." We are still in Vegas, after all.
On my way out of the bathroom, I think, The only thing that would make this night better and funnier are some Jell-O shots. And just like that, as though I conjured him from the ceiling like so many men before him tonight, there he is: a waiter holding a tray of strawberry Jell-O shots. I immediately buy six, at four dollars a pop. As I wait for my change, I notice an usher, dressed in black and wearing a very official-looking headset. He's young, maybe 22, and possesses the dead-eyed, thousand-yard stare of a 22-year-old Vegas usher who watches this show twice a night, five nights a week. "Do you ever get sick of this?" I yell, gesturing to the dancers, all of them undulating on stage together, to the crowd of women, all of whom are laughing and dancing and screaming. "Yes," he responds, without looking at me.
That's fine, I think, this isn't for you anyway. The waiter gives me my change. I collect my Jell-O shots and I find my way back to my girls.