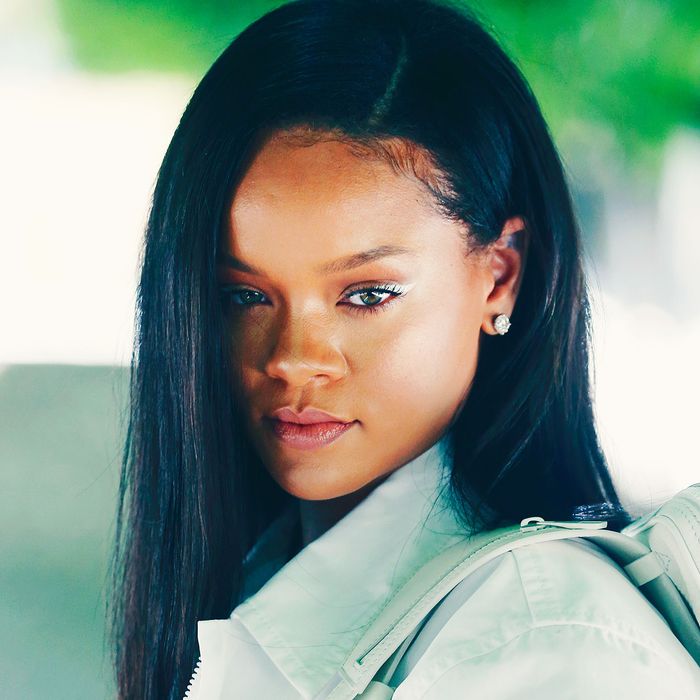 Rihanna.
Photo: Chesnot/WireImage
Rihanna, who recently wore a white eyeliner cat eye (seen above) is dropping yet another Fenty Beauty product. Are we sick of it? No! Because it keeps getting better. The new eye palette, Moroccan Spice, is a new look for Fenty.
With names like Marrakush, Ca$ablanca, and Cumin Get It, it's typical Rihanna. But the colors are rich and deep. Not quite neutrals, like a Naked Palette, but definitely toned down from the galaxy palette. The pop of color is a bright blue shade called Evil Genie, probably inspired by Aladdin.
Aside from her 40 shades of foundation, which many powerful names in beauty have since copied, one of the reasons for Fenty's success are the hyperpigmented shades you'd be hard-pressed to find quality copies of. The golder-than-gold highlighter, the magenta-and-orange eye-shadow palette, and the mint-green lipstick are just three examples. Moroccan Spice palette is the more sophisticated approach to Fenty makeup (which is baseline pretty fun).
On Fenty's social channels, and Rihanna's Instagram, the launch date says July 6. However, it's currently listed at Sephora online, for $59. So … I guess if you see this quickly, snatch it up.