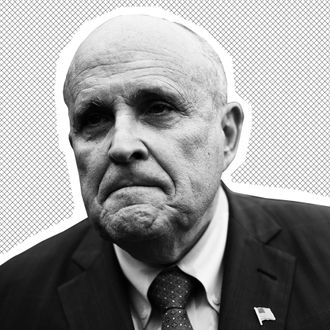 Tfw you have to think about Rudy Giuliani's sex life.
Photo: Alex Wong/Getty Images
The weather is warming up, the days are getting longer, and you can't even fully enjoy it because you're spending an inordinate amount of time thinking about Rudy Giuliani's sex life. If you're wondering what curse has befallen us to make this so, I do not know. I can only attempt to make sense of the messy affair drama that's been haunting us since the former NYC mayor, current Trump lawyer, and permanent ferret-hater split up with his wife.
Let us embark on this dark journey together.
April 4: Giuliani and wife Judith Nathan announce that they're divorcing.
Earlier in the spring, Giuliani and his third wife shared that they were splitting up after 15 years of marriage. This is not to be confused with the dissolution of Giuliani's previous marriage, in which his then-wife found out he was divorcing her via a press conference. Or his first marriage, which was annulled after he found out that he and his then-wife were second cousins.
April 11: Gossip columnist claims women are extremely horny for Giuliani.
Cindy Adams at "Page Six" published a story claiming that "women are lining up to date Rudy Giuliani" that features a handful of unfortunate cat analogies. I speculated at the time that it sure sounds like it was placed by someone whose name rhymes with Fudy Biuliani. How Trumpian!
May 29: Giuliani gets booed at a Yankees game.
While not necessarily relevant to the affair drama, this is (a) highly enjoyable and (b) a breather before things get really crazy.
June 12: Nathan tells "Page Six" that they broke up because Giuliani was having an affair.
The tabloid reported that multiple sources saw Giuliani with Maria Rosa Ryan, a married hospital administrator from New Hampshire, at a hotel and spa when he was visiting her state in late March — just a few days before Nathan filed for divorce. Giuliani curiously both denied the affair, saying they were just friends, and claimed he was "in effect separated'' from Nathan during that March trip. Meanwhile, Nathan had a different message. "My husband's denial of the affair with the married Mrs. Ryan is as false as his claim that we were separated when he took up with her," she said.
June 13: "Big Boobs"–gate begins.
The Giuliani-affair rumors take on a new life, as we learn that he possibly possesses the sex-talking skills of a 13-year-old boy. Per "Page Six," of course:
Rudy Giuliani has been bragging to pals about having an affair with a married woman with "big boobs," sources tell The Post.
Giuliani firmly denied it, saying "whoever told you that is a liar." Another source separately told the Post "that is not the way he talks about women." Regardless, I will be thinking of Rudy Giuliani saying "big boobs" until the end of time.
June 14: Is Giuliani dating someone else entirely?
Possibly! He's been photographed holding hands with GOP fundraiser Jennifer LeBlanc, with whom he attended the White House Sports and Fitness Day in late May. Again, he both seemed to confirm and deny it publicly. "Yes I have gone out with her three times starting two or three weeks ago," he told the Post, which is apparently devoted to going full Spotlight on Giuliani's sex life. "We are still only friends. It will, I hope, continue if we can have some privacy." A.k.a., these two haven't had the DTR talk yet.
On the same day, the White House dashed any hopes that they'd be weighing in on whether or not Giuliani is doin' it. During her daily briefing, Press Secretary Sarah Huckabee Sanders stated, "Not today or tomorrow or at any point ever going to comment on Rudy Giuliani's love life."