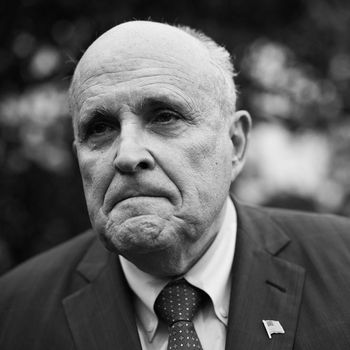 Rudy Giuliani.
Photo: Alex Wong/Getty Images
Rudy Giuliani, a man who doesn't think a woman should be president, continued his habit of making sexist comments on Wednesday, telling the crowd at a Tel Aviv conference that Stormy Daniels's career choices undermine the credibility of her allegations against President Donald Trump.
Just one month after confirming that Trump's attorney Michael Cohen's $130,000 payment to Daniels to stay quiet about her affair with Trump was a campaign-finance violation (and then immediately attempting to backtrack his remarks), Giuliani told the "Globes" Capital Market conference that Melania Trump doesn't think her husband had a relationship with Daniels.
"She believes her husband, and she knows it's untrue," the former New York City mayor said of the First Lady. Then, he switched gears and made vile comments about Daniels and people who work in the adult film industry. Per CNN:
"Yes I respect porn stars. Don't you respect porn stars? Or do you think that porn stars desecrate women? Do you think that porn stars don't respect women?" Giuliani said. "And therefore sell their bodies. So yes, I respect all human beings. I even have to respect, you know, criminals. But I'm sorry I don't respect a porn star the way I respect a career woman or a woman of substance or a woman who has great respect for herself as a woman and as a person and isn't going to sell her body for sexual exploitation."
Giuliani continued, "So Stormy, you want to bring a case, let me cross examine you. Because the business you're in entitles you to no degree of giving your credibility any weight. And secondly, explain to me how she could be damaged. I mean, she has no reputation. If you're going to sell your body for money, you just don't have a reputation. Maybe old-fashioned, I don't know."
Daniels's attorney Michael Avenatti then responded to Giuliani's comments on Twitter, calling him out for his misogyny.
Like Yankees fans before us, maybe we need to say a collective "boo" to Giuliani on this one.