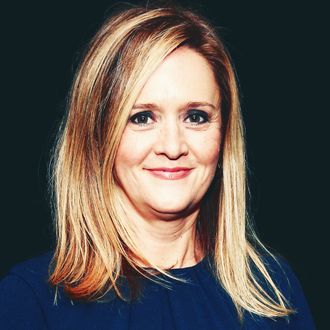 Samantha Bee.
Photo: Paul Zimmerman/Getty Images
Exactly one week ago on Full Frontal, Samantha Bee referred to Ivanka Trump as a "feckless cunt" — a word choice that got the comedian into scalding hot water. Tonight, back on the stage of her TBS program, Bee revisited her comments from last week, acknowledging that she "crossed the line." Before launching into her heartfelt monologue, though, she made one cheeky apology: "Sorry for breaking America."
While Bee's platform and the nature of her insult set her apart, the Full Frontal comedian wasn't the only one attacking the first daughter last week. The weekend before the May 30 show, Trump posted an image of herself hugging her son amid disturbing news that ICE was ripping children from their families, which Bee — like many of us — found to be tone-deaf. After the comedian made her America-breaking joke, press secretary Sarah Huckabee Sanders slammed Bee's "vile and vicious language," TBS pulled the clip from YouTube, and the comedian, facing mounting criticism, apologized.
Tonight, Bee reiterated the sentiments she expressed in her first apology, and said it was never her intention to inflict any pain on women.
"I regret it and I do apologize for it," said Bee, who will now have more oversight from TBS to prevent future controversies. "The problem is, a lot of women have heard that word at the worst time in their lives, and don't want it reclaimed. I don't want to inflict more pain on them. I want this show to be challenging and to be honest."
The comedian also threw in a few funny lines, saying that she does not care about the "many men" who were offended by her joke, and that there's only one person for whom she wants to cause distress.
"I never intended it to hurt anyone except Ted Cruz," she joked.