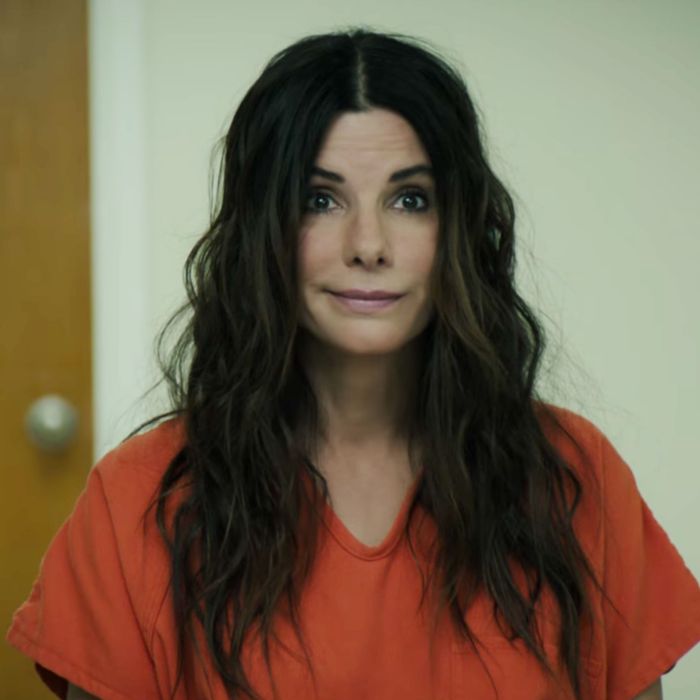 Luscious locks.
Photo: Warner Bros. Entertainment Inc.
Did you notice the uncredited star in Ocean's 8? Sandra Bullock's perfectly textured waves were a beautiful distraction, almost heisting the whole movie. (Cate Blanchett's perfect brow-grazing platinum bangs also put up a fair fight).
When I watched the movie a few weeks ago, I couldn't stop thinking about Bullock's hair. How did it get so luscious? How did it get so full? Why does it look so good in prison? Are curling irons even allowed in lock-up? To answer all these questions and more, I called up Lona Vigi, Bullock's hairstylist for the movie (the two first met on the set of Miss Congeniality). Vigi took some time off from her current work with Reese Witherspoon on Big Little Lies 2 to explain the Bullock prison hair mystery and talk about all the products she used to get her hair looking so good.
The film starts with Sandra Bullock's character, Debbie Ocean, about to be released from prison. But what I noticed instantly was her hair. Why does her hair look so good in prison? Was it intentional?
Everybody has been commenting on that! We did want it to look like she had been in prison, so we wanted to leave it natural. Sandy [Sandra Bullock] naturally has curly hair and I wanted it to look easy. We thought it was messy and like she just got out of prison so she couldn't blow dry it. That's what we tried to portray.
But Sandy just naturally has really good hair! It's hard to not make her look good. People were messaging me, "Lona, when did she have time to get her hair done in jail?" [Laughs.] It's not done.
So you weren't trying to make her hair look good. Her hair just looks that good naturally? You didn't really do much of anything?
Her hair is just naturally thick and beautiful with a wave. I mean, when we make a ponytail it's two to three inches thick. She just has really good hair.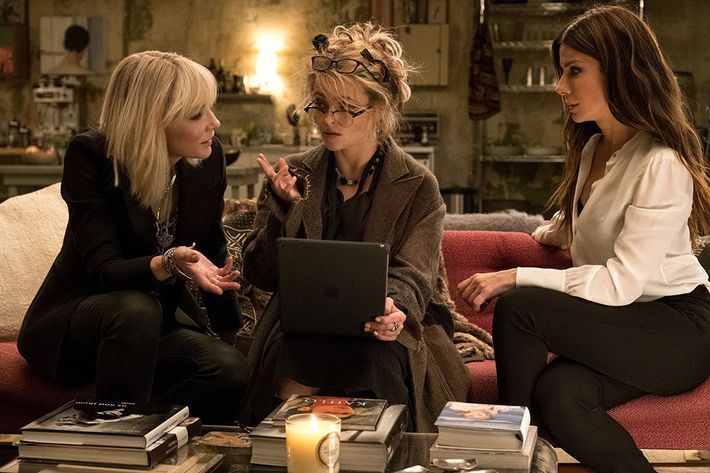 A few reviews have described her hair as a secondary character in the movie. How do you think her hair styles contribute to the story of her character?
Her character is a badass and she doesn't have much time to do anything, including her hair. It's just naturally cool. It's a little bit understated. At one point, I tried to put a pretty little thing in her hair and Sandy said, "That is not my character." And she was right.
Her character is streamlined, to-the-point, and interested in taking care of business. It would have been out of character if she had worn a really done-up hairstyle with more structure — like a French twist. Or if she had done more severe styles, like a high ponytail that's slicked back.
We also paired her hair with her clothes. We would tuck her hair into her coat collars. She just came out of prison, so she wouldn't have time to worry about cutting it. It was more like, We have a mission, let's do this.
How would you describe her texture in the movie? It's not quite beachy.
It's not really beachy. It's between beachy and having an undone sort of curl. Sandy does like her hair more smooth and with movement. I would curl haphazardly — there was not rhyme or reason to the madness. I would pick one up and do a half curl, and then pick up another and curl it forward, so it had some movement but no structure. It was more undone and meant to look easy and un-contrived.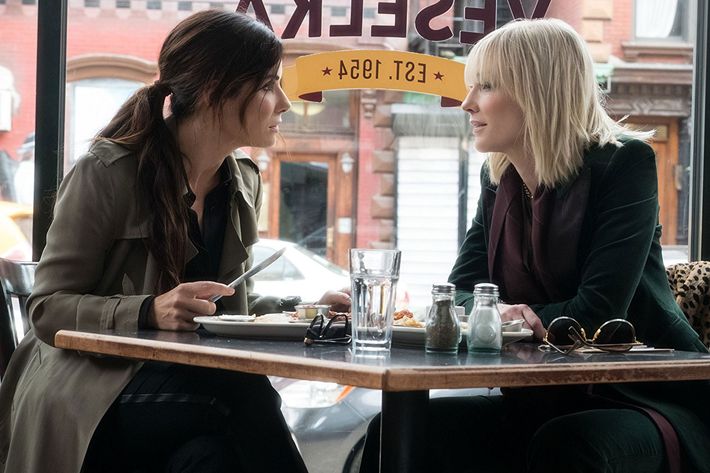 What are some of the key products to getting her undone texture?
I didn't use a ton of stuff. I used some oils which I would combine to run through her hair. I would mix Oribe Gold Lust Oil and Rodin Hair Oil and run it through the ends and around her face. I used hairspray on bits. Sandy likes to see airy and bits of wave — I pretty much used Elnett.
For when we were shooting in NYC, I used Oribe's Anti-Humidity Spray and lightly sprayed it everywhere. A lot of curly haired girls like myself like to have that in their hair. Having it [directly on] your hair will work best, so choose between the Elnett or the Oribe.
What about to create the texture?
I like to mix it up and use not just one but many irons. I'll use a larger iron, like the one from T3 to make bigger waves. I use those around the face to add softness. Then I also use the Harry Josh and the rounded straightening one from gHD (Curve) to flatten bits around the face.
Also, to make sure the curl becomes a wave, I pull on the end when it's still hot. It makes the wave not so defined and gives it a softer wave pattern. But if you wanted to try something without heat, there are some tricks. You can section your hair into four sections, braid it, and pin it up with bobby pins and then sleep on it. Or you can do little buns all over your hair, spray some wave or beach spray and go to sleep with that.
How to Get Sandra Bullock's Ocean's 8 Hair
If you buy something through our links, New York may earn an affiliate commission.