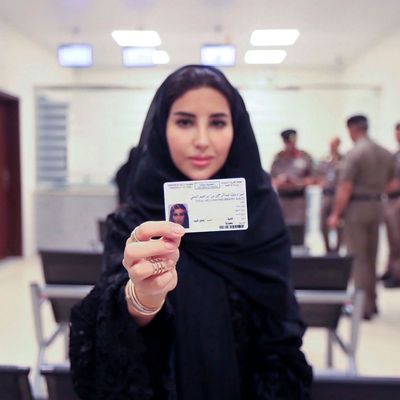 Esraa Albuti.
Photo: Untitled/AP/REX/Shutterstock
Saudi Arabia issued the first drivers' licenses to a group of ten women on Monday. The move comes three weeks before the kingdom is set to lift its longstanding ban on women driving, and just weeks after several activists, including some vocal opponents of the driving ban, were arrested.
After completing driving tests and eye exams, the ten women — who already had drivers' licenses from countries like the U.S., U.K., and Lebanon — went to the General Department of Traffic in the Saudi capital of Riyadh to collect their licenses. Women across the country are expected to be able to receive their licenses on June 24.
The announcement came as a surprise to many, not just because authorities issued the licenses early, but because, in the weeks leading up to it, there has been a crackdown on activists. Saudi Arabia Public Prosecution said in a statement on Sunday that 17 people had been arrested in recent weeks on suspicion of "the security and stability of the Kingdom, its social peace and national unity." These are said to include Loujain al-Hathloul, Aziza al-Yousef and Eman al-Nafjan, three of the country's most well-known women's rights activists, who have long fought to get rid of the driving ban.
While Saudi law does not explicitly ban women from driving, the Kingdom does not issue drivers' licenses to women, and women who attempt to drive are often detained, and held until a male guardian can come collect them and sign a pledge that the woman will never drive again.
While this appears to be a step forward for Saudi women, there's still much, much further to go.
"The driving issue is very important, but the guardianship law is THE current issue we women face in Saudi Arabia, and we're suffering because of it." Twenty-one-year-old Faten told the Cut in September. "This law needs to be ended and forever buried. I honestly wish they banned the guardianship law first, then ended the driving ban. But hey, nobody expected the driving ban to lift in this country, so let's hope the guardianship law does too!"