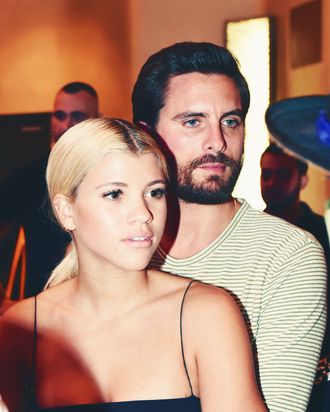 Sofia Richie and Scott Disick.
Photo: Romain Maurice/Getty Images
Just days after Scott Disick was caught getting suspiciously cozy with a woman who was not his 19-year-old girlfriend Sofia Richie, rumors swirled that Richie had dumped her 35-year-old lover, specifically for cheating. But today, much to everyone's discontent — especially Sofia's father, Lionel Richie — TMZ is reporting that the couple never broke up.
According to sources close to the couple, while Richie was angry with Disick for cuddling up to a mysterious blonde at Kanye West's listening party in Wyoming last week, that aforementioned women was just one of Disick's "friends." And about that rumor that Disick was telling everyone at the party that he was single? Apparently, that was just "the booze talking." (Per a TMZ report from last week, Disick was, unsurprisingly, wasted at the listening party).
Even if the rumors are true, and the couple is still intact, it's unlikely that Richie will give Disick too many more chances. In a recent E! report, a source said that Disick has been "partying really hard," and that his behavior has been "very toxic." And, understandably, Richie has reportedly been at the end of her rope.
The most important takeaway is that at this point, no one really knows what's going on. Just as TMZ reported that the couple was still together, People and E! News published two (somewhat contradictory) reports that Richie did, in fact, kick Disick to the curb.
Whatever's going on, we're keeping Lionel in our thoughts.