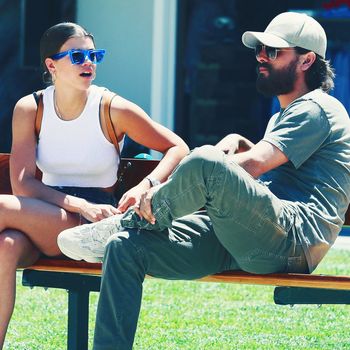 Back to normal.
Photo: JB Lacroix/GC Images
It's been a rocky few weeks for 35-year-old Scott Disick, and his girlfriend, the technically legal 19-year-old Sofia Richie. Earlier this month, Richie dumped her Kardashian-adjacent boyfriend after TMZ published pictures of him cozying up to a "dirty blonde, green-eyed girl" at Kanye West's Ye listening party in Wyoming. But then, days later, presumably to the dismay of her father, Lionel, Richie took Disick back for reasons that remain unclear, and now, according People, the happy couple is "back to normal."
Normal, of course, means that the teen is back to living with the mid-30s, sporadically employed father-of-three, and according to a source, "Everything seems good now." So good that the pair were spotted enjoying a Father's Day lunch at Nobu in Malibu with Disick's kids on Sunday. (That's not the same as the time they went earlier this month when he posted a paparazzi picture of the two of them on Instagram with the caption "Nobu".)
Richie's family has been openly discouraging of this unholy union. When news broke of the couple's relationship last October, Lionel Richie told reporters her was "scared to death." After the model broke up with Disick, a source told E!, "Lionel and her family encouraged the split and are very upset and disappointed that she decided to get back with him." And Us Weekly reported that Lionel even threatened to cut her out of his will if she got back with Disick.
But none of that convinced Richie. After "two whole days," the 19-year-old, who cannot legally drink alcohol or rent a car, returned to her man baby because, according to one source, "She really believes that she has changed him for the better and that he wants to stay on track for her," and, "She feels responsible and that she needs to be there for him."
Anyway, everything's back to normal!