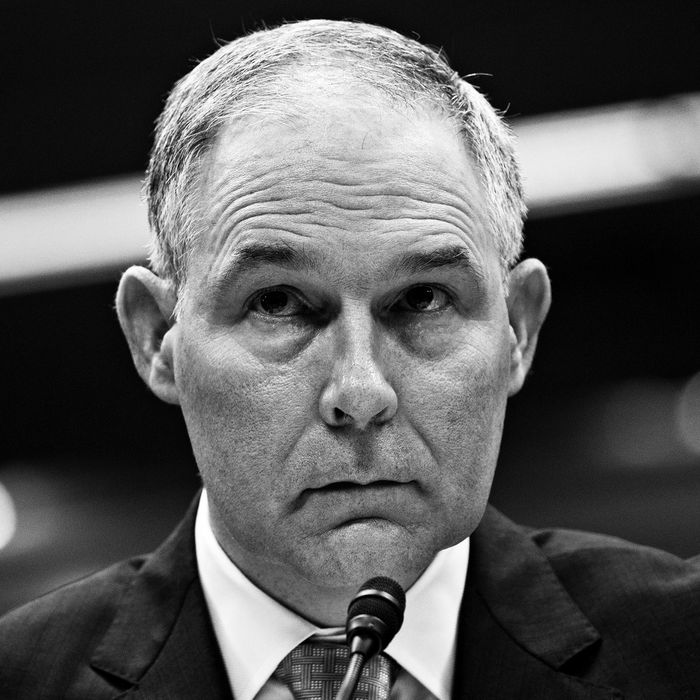 Scott Pruitt.
Photo: Andrew Harrer/Bloomberg via Getty Images
Millan Hupp, an aide for embattled Environmental Protection Agency administrator Scott Pruitt has resigned, the Atlantic reported on Wednesday. The move comes shortly after her congressional testimony about Pruitt's spending habits — in which she alleged he asked her to help acquire a used mattress from the Trump International Hotel — was made public. Shortly after news broke about Hupp's resignation, the Washington Post reported that Pruitt's senior counsel Sarah Greenwalt has also resigned.
Hupp, 26, had worked as the director of scheduling and advance under Pruitt at the EPA, while Greenwalt, 30, served as Pruitt's general counsel in Oklahoma before becoming his senior counsel at the EPA. Both Hupp and Greenwalt received "hefty salary bumps" in March — with Pruitt reportedly bypassing the White House to give them the raises.
According to the Atlantic, Pruitt needed the White House to approve their raises because they were both political appointees, but the Presidential Personnel Office dismissed his application to boost Greenwalt's salary from $107,435 to $164,200 and Hupp's from $86,460 to $114,590. However, he used a provision of the Safe Drinking Water Act to skirt around that requirement.
On Monday, the Washington Post revealed that in May, Hupp testified in front of a congressional committee that Pruitt often had her perform bizarre personal tasks, including looking into how much it would cost to purchase a used Trump Hotel mattress. Her sister Sydney Hupp, a former scheduler who left the EPA last year, also recently testified that she was tasked with helping Pruitt's wife set up a meeting to become a Chic-Fil-A franchisee.
An EPA official told the Atlantic that Millan Hupp was "tired of being thrown under the bus by Pruitt," as well as constantly seeing her name associated with his scandals in the press. Her resignation paperwork was started on Monday morning, and her last day at the EPA will be Friday. But when asked for comment by the Atlantic about Hupp's resignation, EPA spokesperson Jahan Wilcox simply said, "You have a great day, you're a piece of trash."
Hupp and Greenwalt's departures are merely the latest at the EPA. The Post notes that top communications official Elizabeth Bowen recently left, as did top adviser Samantha Dravis.