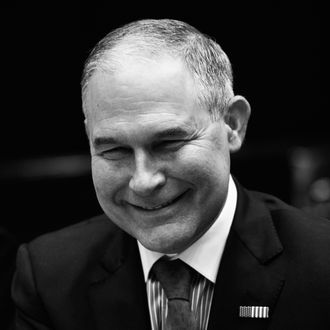 EPA chief Scott Pruitt.
Photo: Molly Riley-Pool/Getty Images
Get the Scott Pruitt Look: Keep a glitzy pen in your pocket, drive a fancy Wi-Fi-equipped car, and slather your body in one lotion and one lotion only, because you're Scott Pruitt, arguably the most corrupt member of the Trump administration, and you do whatever the hell you want to do.
Per the Washington Post, the Environmental Protection Agency chief is very particular about what he puts on his lizard skin, and he once enlisted members of his 24/7 security team to drive him around to find his preferred moisturizer. According to two people familiar with the lotion run, Pruitt's go-to comes from none other than the Ritz-Carlton hotels.
While the Post report does not specify which lotion Pruitt exclusively uses, it's likely that his favorite is the signature Ritz-Carlton Moisturizer, which features "sweet notes of ylang ylang, jasmine, and uplifting bergamot." Or, perhaps he prefers the more obscure Asprey Purple Water hand & body lotion, a spicy, citrus-forward variety from Asprey London, which the Ritz-Carlton sells on its website.
Which brings us to some obvious questions: Why not just order the lotion online? And what is Pruitt's reason for going along with his staffers to pick up the lotion? And, most importantly, what is Pruitt's opinion of the Great Skin-Care Debate of 2018?