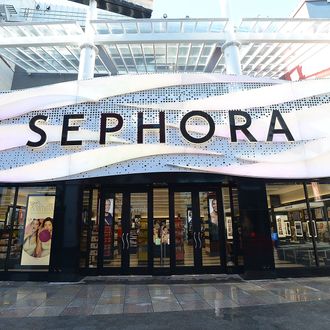 Photo: Charley Gallay/Getty Images for Sephora
It's been 20 years since Sephora opened in the United States, and to celebrate, Sephora is hosting a massive two-day beauty convention, Sephoria, in October. We can't guarantee that it will be better than Coachella, but it will definitely be more air-conditioned.
The theme for the first-ever Sephoria — named for your state of euphoria when you step in the store — is "House of Beauty." Inside the House of Beauty, attendees will get to discover different interactive installations, brands, influencers, and beauty advisers. Sephoria is inviting guests to get lost in a makeup and skin-care fun house. With over 50 brands present, guests can test as many products as they want and become experts at trends like highlighting, contouring, and perfecting an easy smoky eye. Similar to Beautycon, Sephoria is all about exploring everything beauty-related and celebrating how beauty can help you express yourself as an individual.
"We've drawn from our deep understanding of the kinds of physical and digital beauty experiences clients love from Sephora, and set out to create the ultimate event that fuses fun, education, and inspiration, and gives our community a place where they can live out all of their beauty fantasies," said Deborah Yeh, Sephora's senior vice-president of marketing and brand, in a statement.
Sephoria will be held on October 20 and 21 at the Majestic Downtown in Los Angeles, and tickets go on sale July 21. Sephora's Beauty Insiders and those with Rouge status will receive special ticket offers before July 21.