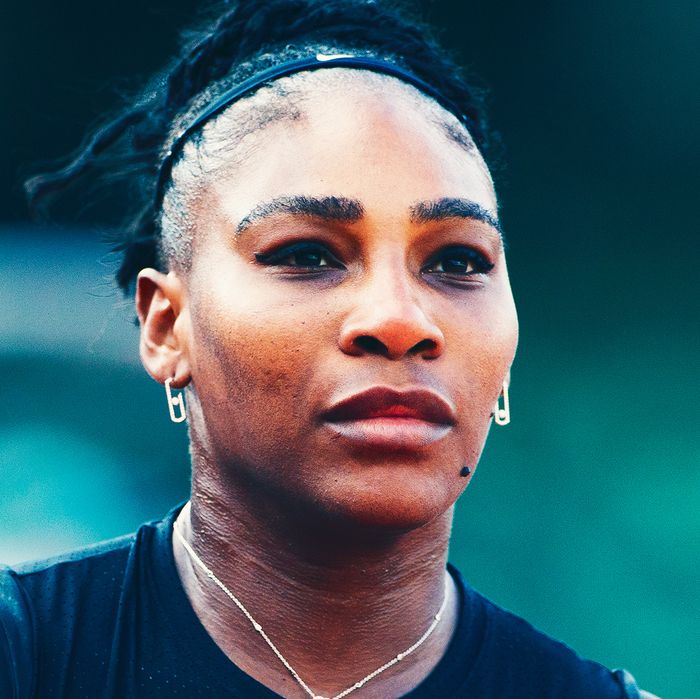 Serena Williams.
Photo: Tim Clayton/Corbis via Getty Images
Hours before her fourth-round match against Maria Sharapova on Monday, Serena Williams announced she is pulling out of the French Open due to a pectoral injury. The tennis great may also have still been struggling with nausea as a result of her interview with Inside Tennis reporter Bill Simons that weekend, during which he asked her a question that has apparently been plaguing him for 14 years.
After an absolutely excruciating start to their interaction ("We're in this together, baby," Simons said, to which Williams responded, "No, we're not; you're not going home to a screaming baby") Simons posed this question:
I have been waiting about 14 years to ask you this question. After the 2004 Wimbledon match with Maria, I had the opportunity to interview Donald Trump on his L.A. golf course, and he said that Maria's shoulders were incredibly alluring and then he came up with his incredible analysis: that you were intimidated by her supermodel good looks. My question is: Have you ever been intimidated by anyone on a tennis court, and what are you thoughts about that occurrence?
Williams, ever the picture of grace and sophistication, did not respond by immediately barfing in Simons's lap, or doing the jerk-off motion with her hand, either of which would have been justified. Instead, she replied:
"I honestly don't have any thoughts about that. I can't say I have been intimated by anyone. That's all. That's it."
Later that day, Williams's husband, Reddit co-founder Alexis Ohanian, retweeted a transcript of the interview and wrote, "Waited 14 years … for this? Pro-top: wait at least another 14 more years before asking another question."
Simons, whose Twitter avatar is a picture of him and Williams, apologized for his "awkward ques" in a tweet, saying he didn't want to "empower Trump or attack Serena":
Williams said in a press conference on Monday that it's "extremely disappointing" to be pulling out of the French Open. Her match against Sharapova was one of the most anticipated of the tournament, because Sharapova is consistently painted as Williams's "rival" despite having lost 19 of their 21 matches against each other.