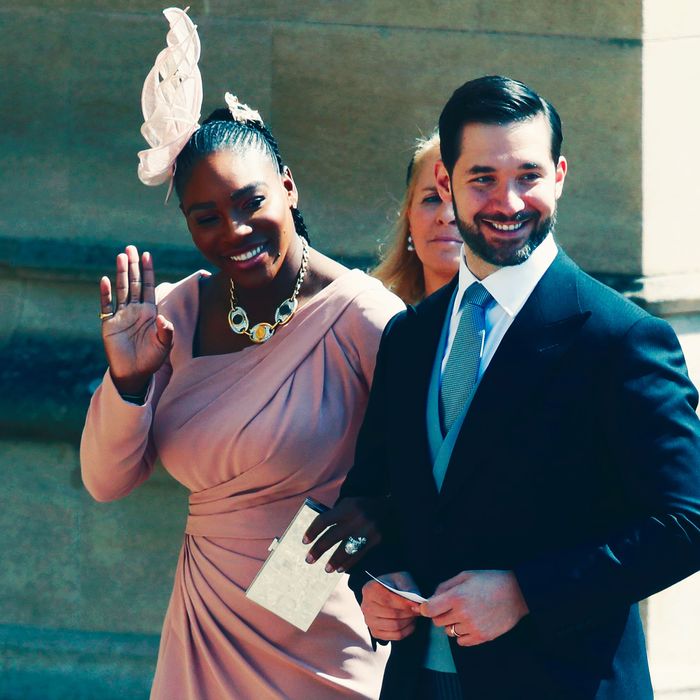 Serena Williams and Alexis Ohanian at the royal wedding.
Photo: Odd Anderson/AFP/Getty Images
Serena Williams, one of the greatest athletes of all time, was among the many celebrity guests (including Oprah as well as George and Amal Clooney!) at the recent royal wedding of Meghan Markle and Prince Harry. Now, in a new cover story for InStyle, the tennis queen finally opens up about what it was like at the exclusive affair.
Speaking with InStyle's editor-in-chief Laura Brown, Williams revealed that the May 19 royal wedding, which she attended with Reddit co-founder husband Alexis Ohanian, was "super fun" — especially since it was the nuptials of one of her close friends. "You know, I've known Meghan [Markle] for years, so it was good to see my friend happy," Williams said.
The GOAT went on to explain that, like many of the other A-list guests, she had two dresses prepared for the big day: one for the formal church ceremony and another for the private evening reception. She told InStyle:
 I worked with [Valentino designer] Pierpaolo Piccioli [for my reception look], and I had a great time. The first thing he showed me, I was like, "This is it. I don't need anything else." It was such a big hit. I was supposed to wear heels originally, and I'm thinking, "C'mon, Serena—reception. Heels or shoes? Heels or shoes?" I decided to go with the shoes [laughs].
Williams also touched on the Instagram videos she posted throughout the day, saying that she thought they were funny. "That's how I think you should be. I think it should just be really fun and not pressured, you know?," she said. "Sometimes it feels like a lot of pressure. It should be what you want, when you want it, and how you want it. That's kind of how I live my social media life. I just want to be myself."
Read the full interview here.