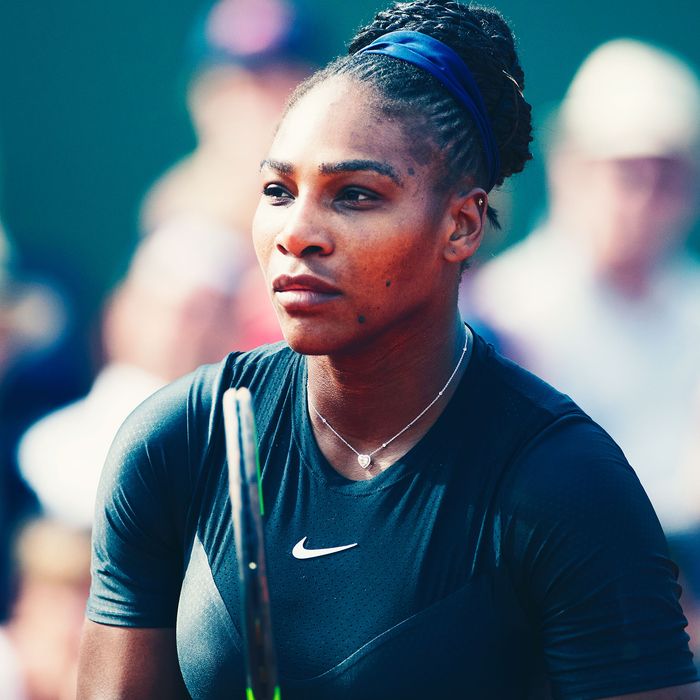 Serena Williams.
Photo: Tim Clayton/Corbis via Getty Images
At a press conference on Monday morning, Serena Williams announced that she would be pulling out of the 2018 French Open due to her pectoral injury. Serena, who has won 23 Grand Slam titles, said that she feels incapable of playing with her injured muscle. "Right now I can't actually serve, so it's actually hard to play when I can't physically serve," she said. "I've never felt this in my life. This is so painful."
Later today, Serena was set to play Maria Sharapova, the Russian tennis player often regarded as her longtime professional nemesis. In previous head-to-head meetings, Serena leads Maria 19–2, and expressed her disappointment in the press conference. "It's extremely disappointing," Williams said, "but also, I made a promise to myself and to my coach and to my team that if I'm not at least 60 percent or 50 percent, then I probably shouldn't play."
Serena, 36, has been vocal about the health challenges she faced delivering her daughter, Alexis Olympia. She won her first Grand Slam title in 1999, when she was just 17 years old. Just last week, she won her first Grand Slam match win since giving birth. Here's hoping that she (and the black Nike body suit) will return to dominate the sport again, soon.