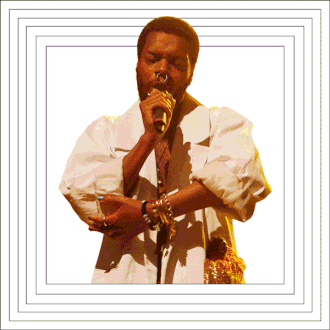 I Love This Song! is a Friday guide to the week's new (or newish) albums, mixtapes, playlists, singles, loosies, collaborations, and/or diss tracks.
Whew! This has been a week, amirite? So long, and tense, and emotionally draining, that by Tuesday I needed a hug. By Thursday I was holding myself and watching that video of Kanye weeping and holding Virgil Abloh after his Louis Vuitton show on loop. Yes, Teyana Taylor supposedly has an album out, but I haven't seen proof yet, so until it drops, I just want to listen to a song that sounds like an embrace between Virgil and Ye feels: "bless ur heart" by serpentwithfeet.
Serpentwithfeet is Josiah Wise, a Baltimore-born experimental R&B singer. He started out singing gospel music in church and knows something about catharsis. Now, he makes self-assured, earnest music that is loudly black and gay and emotional. Before, he didn't.
All of the songs on the full album, soil, are so rich — philosophical and liturgical and sometimes inaccessible if you're trying to sing along or understand everything that's going on compositionally and intellectually; but they're accessible where it really counts.
The music is lush: heavy beats, minor tones, ornate piano, vocal runs borrowed from '90s R&B divas. The album feels like going to church (whatever your church is) and letting it all out. All that adds up to something that feels like secular gospel, complete with the stomps. While listening to it, you feel like someone gathered you in their arms and patted your head, causing you to start ugly-crying. But you feel lighter — ecstatic almost — after the emotional work you just put in. You just feel better.
Some other tracks that sound like a strong pair of arms soothing you:
"Mourning song," serpentwithfeet: takes you to church so many times, your grandmother will finally stop reminding you, "You need to go to church."
"LoveHappy," the Carters: This is the sound of Beyoncé and Jay-Z taking you into their arms, like you're their fourth child, and saying "Mom and Dad had a fight, but the world is a loving place. Also Mom and Dad like to have sex."
"You're Not Wrong," Wet: Wet's sophomore album doesn't come out until July, but the third single is a cheerful, girl group–inspired song that feels like a hug from your chipper best friend from college who has to deliver devastating news.