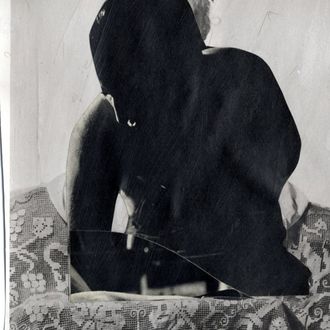 Photo-Illustration: James Gallagher
Get Sex Diaries every week.
New York's Sex Diaries series asks anonymous city dwellers to record a week in their sex lives — with comic, tragic, often sexy, and always revealing results. This week, a 51-year-old male who goes to AA and watches Mormon porn: gay, 51, single, Midtown East.
DAY ONE
9 a.m. I'm wide awake and desperately want to go back to sleep because Sunday is my only real day off. I do the nine-to-five thing Monday through Friday, and on Saturdays I hang out and gig with other Broadway wannabes and has-beens — last night, I was out until 2 a.m. It's usually a game of "anything you can sing I can sing louder," but there is a genuine sense of community. And I get to reconnect with what brought me to NYC — more than 30 years ago from small-town Jackson, Mississippi — in the first place.
10:30 a.m. I really want to text Dmitri, even though I know he's not going to respond until at least 1 p.m. Dmitri is my masseuse. My happy-ending masseuse. I'm 51; he's 28. I'm African-American, he's Russian; I'm masculine; he's a bit femme. We've known each other for seven years, hanging out socially — in addition to our sessions — for five. I met him on Craigslist personals when there was still such a thing. He wasn't  my first happy-ending masseuse, nor was he my last. But it was intense from the very beginning, even when we were still just learning each other.
10:45 a.m. I'm horny as fuck even though I got a blow job just yesterday. It was some random white guy from Grindr who was desperate for black dick. As long as I know what the deal is, the objectification doesn't bother me. It's only when somebody's Mandingo fantasy is hidden under other motives that it pisses me off. He slobbered all over me until I semi-came. I have no the idea what his name was nor do I care. It was exactly as romantic as it sounds.
11 a.m. I text Dmitri. Nothing.
3 p.m. He texts me back. We make a plan to meet at seven at his studio. I spend the afternoon sexting with the soon-to-be ex of an ex. Classy. I have absolutely no intention of meeting him or fucking him but I suppose the validation is nice. I hit the gym.
7 p.m. I get to Dimi's studio and I'm hard even before I'm undressed. There's a sameness to our sessions that I find both reassuring and erotic. There's always that moment where we both pretend that it's actually a legitimate massage and maybe nothing else will happen. And then there's a slight, almost accidental graze of his fingertips on my dick, and the casual stroke of my hand on his thigh. It feels a bit like two schoolboys playing. We don't kiss. We never kiss. There's the moment where he massages my hands and we hold hands for a few seconds, just like real boyfriends. I've never fucked him but when my finger is inside him he writhes and moans in pleasure. It's a lot like real sex, and it's definitely not on the normal happy-ending-massage menu. After we both come we go down to Starbucks and sit and talk about music and poetry for an hour or two. Then I head home.
DAY TWO
8 a.m. I always feel a little hung-over after a session with Dmitri. Postcoital guilt. I used to think it was because I would drink before our sessions, but since I got sober five years ago I realized the hangover is an emotional one.
A church-boy black Southern Baptist upbringing comes with heavy baggage. I'm now way past the gay stuff but traces of self-loathing persist. Thank God for sobriety and therapy.
11 a.m. Work! I'm the general manager of a fancy boutique gym in midtown. I hate it but I'm really good at it; it must be my musical-theater background. I can always put on the show.
12 p.m. I make myself commit to a lunch date with Dustin. He bores me to tears, but it's my way of proving that I can have a normal relationship with a guy. He's everything I've told myself I think I should want, but literally nothing about him interests me. And he's gorgeous, so okay.
3 p.m. After lunch there's drama with a billionaire client who's been caught in the steam room being inappropriate once again. Showtime. I defuse the situation, all is well. Then the billionaire asks me to dinner. I just can't win.
7 p.m. I finally leave work and walk downtown to my apartment. It's funny; I pass by at least half a dozen of the dirty bookstores that I used to frequent so much when I was drinking. There was something so dark and dirty and degrading about sticking your dick through a hole so an anonymous stranger could suck it. I was as addicted to that as I was to alcohol. The fact that I don't do either anymore is beyond miraculous.
8 p.m. I pick up some Chipotle, which is always a gross choice. I'm amazing at creating a paradox — when I feel bad about myself I eat crap food; when I have anxiety I drink coffee; when I feel lonely I isolate.
9:30 p.m. I think about texting Dmitri but I decide to go home watch some porn and jack off. "Mormon Boyz." It's almost laughable in its unbelievability, but I'm totally into the fantasy. I think I've had Mormon fantasies since I was a teenager. Not surprisingly, when I finally had sex with an actual Mormon, it was just like having sex with anyone else. "Mormon Boyz" however, always gets me off.
DAY THREE
7 a.m. I realize I haven't been to an AA meeting in three days so I slip into a morning meeting.
7:45 a.m. I slip out to be at work at 8. Getting sober is the best thing I've ever done, but it ebbs and flows just like everything else in life. But I have to say that in most ways I've never been happier.
12:30 p.m. I meet up with this guy, Jorge, during my lunch break. We connected on a dating app. His pictures don't do him justice, which is great because usually the opposite is true. We kiss and make out at my house but it doesn't go any further. It's actually nice and then he reveals that he has a monogamous relationship with his husband. Not sure what we're doing here then …
1:30 p.m. Ten minutes after I leave I delete and block his number. I'm a ho but not a home-wrecker.
5:30 p.m. My therapist says that I compartmentalize my relationships because of the trauma of growing up in a dysfunctional alcoholic household. It was the only way I could feel safe — it was a necessary survival tool. So was drinking. I need to learn to integrate these separate parts of myself. But it's hard to reprogram behavior that's calcified over decades. Whew.
7:30 p.m. Come home from work, dinner, Mormon porn, bed.
DAY FOUR
8:30 a.m. Dmitri and I make plans to go have dinner this evening. He's a poet; he's actually quite good. I proofread a lot of his writing for obvious spelling and grammar mistakes.
6 p.m. We always take turns paying and tonight it's his treat. Vegan. I guess it's my need to compartmentalize that allows me to do this weirdness, because it feels completely natural. We talk about his dreams and my regrets and my dreams and his regrets. He's very sweet because he insists that there's still time for me to get back onstage. We don't hold hands, we don't kiss, but it's by far the most intimate moment of my week. I resist making this more than it is. The bottom line is I am paying him for sex. It's prostitution. Which feels really odd and clinical to think about. The thing is, it feels like romance.
8 p.m. He teases me because I loathe Pushkin, and he thinks it's cute how much I love Tchaikovsky. There's a beauty and brutality to Russian culture (and Russians) that I am captivated by. Dimi embodies this contradiction. To his credit he's the only Russian I've been with who's not a full-blown alcoholic. I insist he read James Baldwin, and much to my delight he "gets" it.
10 p.m. I go home and do gay Chatroulette. It's my new thing, video sex with random strangers. It's virtual sex but not really. If I'm not careful I can get sucked into it for hours, endlessly swiping left and right.
1 a.m. I text, sext, and come with a 23-year-old boy from the Ukraine. The irony of this is not lost on me.
DAY FIVE
7 a.m. I get to an AA meeting right on time but I'm totally distracted by the super-hot tall guy sitting beside me. He's even taller than me and I'm six-two. All I can think about is what it's going to feel like to hold his hand during the serenity prayer. Getting sober in middle-age is like being an giant elderly adolescent. Very Benjamin Button. You have to learn to do everything new again. But without booze and drugs.
11:30 a.m. I think about booking a session with Dmitri tonight but I really can't afford the $150. I try to limit it to one or two sessions a month but sometimes I need to be touched in the way that I feel that only he can touch me. Our sessions have gotten much more erotic over the years. There's always oral sex now.
4:30 p.m. I text the slobbering white guy from Grindr, and he comes over and gives me a slurpy blowjob in my office right before I leave work. It's like a Band-Aid on open heart surgery.
5:30 p.m. I work out at work until I almost can't feel my arms and legs. It's like I'm trying to exorcise demons. This shame that calcifies like plaque. It's so much better than during my drinking career but it's still there waiting. Maybe I shouldn't hook up with Slurpy anymore.
11:30 p.m. Sleep is fitful and restless. I'm glad I live alone.
DAY SIX
6 a.m. I wake up to a text from the last guy I dated before I got sober. He apparently wanted to come over and drink some wine, smoke weed, and cuddle. The late night and his syntax leads me to believe he was on crystal meth. Four paragraphs of run-on sentences are usually a clue. Totally grateful I don't live like that anymore and at the same time, a little nostalgic for my wild youth.
7 a.m. I go to my meeting and share about it and am reassured that it's normal.
12 p.m. I text Dmitri to see if he's free on Saturday. Multiple texts from Slurpy. Work drones by without incident. I get in two workouts in one day to rebuke the demon. At therapy, my shrink suggested that it might be time for me to ask real guys out. Yeah, yeah, I half-heartedly agree. I haven't told him about Dmitri yet. I haven't told anyone about Dmitri really. It's as if I don't want the spell to be broken.
3:30 p.m. Dimi answers me back — he's free tomorrow at 4 p.m.
7:30 p.m. I decide to check out a Broadway open mic uptown. I sing the hell out of two songs and get three phone numbers from boys half my age. It definitely didn't work that way when I was in my 20s and 30s. I'm still getting used to it but I guess daddys are in. Or maybe I'm a zaddy, whatever that is. Either way I ain't mad about it.
DAY SEVEN
9 a.m. Dmitri asks if we can move our session up to 2 p.m. I say sure and ask him if he'll wear a thong for me. Of course he will.
10:30 a.m. I don't eat much in the morning because I don't want to feel flabby on his table.
1 p.m. I've come to realize that my attraction to Dmitri is as emotional as it is physical. Not really sure what to make of that realization. Do I love him? Sure, I guess so. Do I want to marry him? Honestly, no. Is there space for that kind of relationship in my life? Maybe this whole arrangement is fucked up. But it doesn't feel that way.
2 p.m. Dimi and I have what I can only call an intense session. It's more sensual and erotic and breathless than anything we've ever done. The thong helps, but what's really apparent is this heightened intimacy that can only be built by trust.
3 p.m. We have a coffee, I read and review his latest poem; he looks at the video from my open mic. I'm in a state of what can only be called bliss. Modern romance.
5 p.m. Where I get into trouble is when I try to force relationships into categories that I preconceive in my mind. This is as true with Dmitri as it is with friends and family and work or whatever. Guys from apps, Dimi, even Slurpy — they're all relationships really, when you think about it.
Get Sex Diaries every week.
Want to submit a sex diary? Email sexdiaries@nymag.com and tell us a little about yourself.