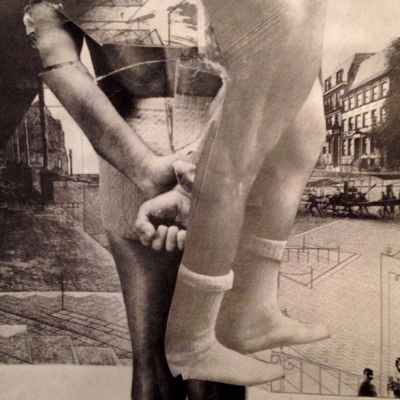 Photo-Illustration: James Gallagher
Get Sex Diaries every week.
New York's Sex Diaries series asks anonymous city dwellers to record a week in their sex lives — with comic, tragic, often sexy, and always revealing results. This week, an aspiring writer who can't stop thinking about her boss: straight, 29, single, London.
DAY ONE
7 a.m. I wake up early excited to go to work. I never get there before 10, but today … yes. It's almost summer, so I put on a red dress and cycle to the office.
9 a.m. I get in the office all sweaty after that cycle, but I see his blue eyes, and I smile. Everyone is in their own world, so they barely notice me. I sit at my desk and start working on the article I'm trying to finish. My phone vibrates: "Hey hot stuff." My heart melts, but I don't look his way. Boy, I live for this shit.
"He" is my boss. About two weeks into me working here, we were alone in the office together and he told me he was attracted to me. He said from the beginning that he had kids and a girlfriend, but that things were "dead" with her. I knew what I was getting into. Our affair started two weeks after that.
Noon It's lunchtime and everyone goes downstairs to the café. My colleagues ask me to join, but I pretend I'm finishing up something and say I'll be downstairs soon. Suddenly we are alone in the office. It doesn't require much — only ten people work here, including him and me. We are sitting far from each other, but our desks are facing. "You look beautiful," he says. "I've missed you." I missed him so much. I've been waiting every minute for it to be Monday again. Lame, I know! I don't tell him. Instead, I ask if he's staying late today. I already know the answer, but a girl can dream. "It's Monday," he says. "You know I have to go home to cook." I am disappointed, but I act as if I don't care and make my way out to lunch.
2 p.m. I am staring at my screen, incapable of writing. Since I met him, I can't think of anything else. It's cheesy, but it's that "can't breathe, can't sleep" kind of feeling. At lunch, we talked about the weekend, but I honestly wasn't paying much attention, not eating much — one of the perks of being "in love" is losing weight.
3 p.m. He stands up and gives me "the look." I wait for a minute or two, then head to the kitchen.
3:05 p.m. "Hey you," I say all smiley and lovey, while in the background the kettle is boiling. He grabs me by the waist and pulls me closer to him. I look him in the eyes fiercely, and he kisses me. My body enters an adrenaline stage. I could fuck him right here, right now. We hear steps, so we stop. I am blushing. We laugh. False alarm. He asks about my weekend, pretending to be interested, but I don't tell him much — I like to keep the mystery. Instead, I ask why he didn't answer my texts. He gets nervous and says he was busy. He heads out with his tea. He loves to avoid.
5 p.m. I am cycling home thinking, What an asshole. I am not going to talk to him again. I am not going to kiss him again. I am never having sex with him or maybe anyone again.
7 p.m. I go to step class to release my anger. I later meet my roommate at home, and I tell her about my day. She is probably tired of hearing the same old story, so I keep it short.
DAY TWO
9 a.m. Today I don't rush. I just woke up and don't feel like going to work. Although I have to. I take my time to have a good breakfast. Avocado on toast with eggs — my favorite.
10:30 a.m. I am still home; about to leave. I get a text from him: "Are you coming in today?" It's been four days since we last had sex. I don't answer. Let him be surprised.
Noon I am super distant. The minute I arrive he hands me a bunch of stuff to do. He is acting all bossy today. Deadline is tomorrow, so today is stressful. I really concentrate on proving to him that I can separate "us" from work — to prove it to myself. Indifference makes me productive, and I am quickly nailing all the tasks.
12:40 p.m. He suggests a group lunch to everyone in the office. Everyone goes. We are in line to pay, and my card is not working. He hears I am in trouble and he steps in before anyone. "I'll pay for you."
5 p.m. It's been a nonstop day of work and the last person just left. I had to pretend I was making time to meet a friend to avoid the obviousness, although I don't think anyone suspects, because if you look at him and you look at me, you probably wouldn't guess. He is 45, and I am 29. He's mostly bald with a little gray hair. Oh, and terrible teeth. Plus, he is too cocky and grumpy. I am dark blonde, curvy, with a nice smile (thanks, braces!). I don't think I am pretty, but he does.  And here we are alone.
5:30 p.m. He hasn't shared a word with me since everyone left. He is concentrating too hard. I start packing up my stuff to leave, and then he reacts: "Where are you going?" Home, I tell him. He says he's finishing something up, that he can stay late today. But I don't think it's a good idea. After yesterday, after always, I shouldn't. But he comes to my desk and hugs me and kisses me tenderly. I am convinced.
6:15 p.m. We are having sex in his chair. I am on top of him wearing my bra. He is naked and enjoying it. "I've been looking forward to this all day," he says with a pleasant look in his eyes. He makes me squeeze his nipples and scratch him. The pain excites him. Finally, he comes. Moaning like a little girl with his mouth wide open.
6:50 p.m. He dresses quickly and starts heading to the door. "Shall we?" I am like half-dressed. He gives me that look like, you know, I told you, I need to go home. I feel like a whore, but an unpaid one. I don't say good-bye and run out the door.
8 p.m. I can't stay home. What am I doing? I am freaking out, so I go to spinning class. The teacher is so hot, and he is always flirting with me. I needed that ego boost. I get home, and I am exhausted but feeling strong. Tomorrow I won't do it again. I won't.
DAY THREE
10 a.m. I get to the office, and I have loads to proofread and articles to finish. There's no time to think about anything else.
4 p.m. We've finished successfully, and we are drinking beer as is tradition. I was so busy I didn't even have lunch. On my second beer, I feel a bit tipsy already. We are playing soundtracks on YouTube and trying to guess which movie they belong to. I am so good at the game, so I team up with my co-worker against him on purpose.
6 p.m. There are not many left of us. Just two co-workers, plus Laura — the intern who never misses free booze — and him. We are out of beer, so he invites everyone out for one beer in the pub around the corner. I am definitely drunk right now.
7 p.m. After a pint, we lose one co-worker. I am sitting next to the boss. Our two co-workers are in front of us. I am rubbing my leg against him, getting horny.
7:15 p.m. He goes to the toilet. I am frisky so after a few minutes I decide to follow. He is coming out, and I drag him into the women's toilet. We are kissing ferociously. He is so hard. "Let's get out of here," he suggests. Back on the table, we sip our beers, and he announces he is leaving. I do too.
7:45 p.m. The office is empty, which means we can use the couch in the hallway. I get so wild when I am drunk. We fuck intensely, enjoying our naked bodies. I have the best orgasm ever; he does too. Almost at the same time.
9 p.m. We are holding each other and lying on the couch. "I wish we could live together," he says. I wish too, but I don't want to get my hopes up. We are so tired and drunk we fall asleep.
1 a.m. He wakes me up nervously. "Shit! We overslept." I am actually glad that we did. I wish that she will find out after this. We say our good-byes.
DAY FOUR
8 a.m. I wake up a bit hungover. Take a shower quickly and cycle 20 minutes to my cleaning/babysitting job. Did I mention, I work voluntarily for him? Yes, I'm basically an unpaid intern.
9 a.m. This is my real workday, where I get paid. I clean this chic-huge apartment for a couple of hours and then pick up the kids from kindergarten. A 5-year-old girl and a 3-year-old boy. I buy them candy, and we stroll around the park till the mum comes back.
2:30 p.m. I cycle to the office just to see him. But almost no interns showed up today, so I must do a lot of uploading to the website.
4 p.m. He leaves, and we don't get any private time. I stay for another hour finishing work.
7 p.m. Tonight it's dinner with the girls. We go to this fancy place I can't actually afford, but I pretend I do. My life lately is all pretending. They ask me about the guy I am seeing. I lie, about it all. I can't tell them I am fucking my boss, because they know him. They know he has a "girlfriend" and two kids. At least he's not married. I think.
9 p.m. We've had many cocktails, and here I am tipsy again. Everyone leaves but my French friend Sophia. She is always up to continue the night, so we go to another bar. I don't feel like going home.
11:30 p.m. We are talking to these guys, and they have been buying us drink after drink. There's this really hot guy with a beard — boy do I love beards — who seems to be into me. They suggest we go dancing.
1 a.m. I am dancing with the hot guy, having the time of my life, finally not thinking about my boss. Sophia wants to leave, but I don't. She tells me to stay and gives me a wink.
2 a.m. We end up at the hot guy's apartment. We are kissing, we are naked, about to have sex. But I stop. In between my drunkness, I get this moment of consciousness. I can't betray him. You might think, What!? But I realize I can't have sex with someone else. I love him. I am in love with my boss in this sick and toxic way.
I get dressed quickly and leave the guy still in bed. He's so confused.
DAY FIVE
10 a.m. I am in the office indeed hungover. Yet, I am horny as fuck. I text him that. He says he can stay a bit late tonight …
3 p.m. It's Friday and everyone is gone but him. I am on a high after not sleeping and drinking too much these days. We start kissing in a frenzy. I never tell him about last night.
4 p.m. I'm on top of him, but he is not feeling it. I already had an orgasm after he went down on me.
4:30 p.m. We are lying on the floor on top of cushions. He is on top, fucking me like it's the end of the world. I ask him to slow down, but he is too into it. Finally, he comes.
7 p.m. Work time for me. I am working at my other job, the bar, till 3 a.m. I am tired, but happy. I send him a text about how great the sex was. He never answers. Friday evenings are family time.
DAY SIX
1 p.m. I just woke up. Work was massive, and I didn't leave till 4:30 a.m. There's a festival in town, so we have a lot of customers. Tonight will be another long night …
2 p.m. I do some groceries and cook a nice meal: Thai green curry with chicken. Then I take a nap.
7 p.m. Another day at the bar, but not too happy. More like exhausted and disappointed that he hasn't written back.
10 p.m. My phone vibrates: "Are you working tonight?" Of course, I answer. "I might pop by, I am out and about." I make a triumph dance and my mood changes completely. I am so excited to see him on a Saturday!
Midnight He shows up at the bar, and we are currently packed. I am serving as fast as I can so I can take a ten-minute break to see him. I make it, and we meet in the outside section. He's tipsy; he's been drinking with his buddies after football. He kisses me. I wonder at his face, his blue eyes. His look has me hooked from head to toes. "I have free time tomorrow, from 9 to 12." I tell him I'll be tired, playing difficult. But it doesn't take long for me to agree — I remember my roommate will be out of town. We'll have the flat to ourselves.
DAY SEVEN
9:05 a.m. My phone rings. It's him. I was fast asleep, I got home around 5 a.m. after a long night. I open the door in my pajamas. He kisses me. He brought breakfast! I'm excited. But first, we fuck.
10 a.m. We are in bed having coffee with croissants and raspberry juice. We are talking and almost feeling what it would be like to be a "normal couple." I love it. I love listening to him, to his stories.
Noon He leaves at twelve sharp. I get sad and anxious and eat the rest of the pastries he brought. I fall asleep.
6 p.m. I've been doing nothing all day but sleeping and daydreaming about a life with my boss. I am such a romantic fool. I even cried a bit. I eat curry leftovers while I watch Sex and the City and go to bed early. Maybe tomorrow will be the day I will be able to stop this …
Get Sex Diaries every week.
Want to submit a sex diary? Email sexdiaries@nymag.com and tell us a little about yourself.