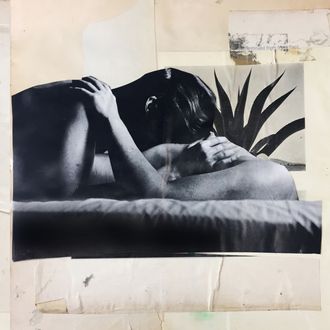 Photo-Illustration: James Gallagher
Get Sex Diaries every week.
New York's Sex Diaries series asks anonymous city dwellers to record a week in their sex lives — with comic, tragic, often sexy, and always revealing results. This week, a 27-year-old consultant who's dating to distract herself from a chronic injury: straight, 27, single, Midtown East.
DAY ONE
8:30 a.m. I wake up to a text from A, a friend who I see occasionally. I nearly always flirt with him. He bought my drinks last night, I let our legs and hands touch for longer than I should have. When it seemed like he was gearing up to make a move, I quickly scooted out of there. But literally, scooted: I've been dealing with a foot injury for a year, so I'm on one of those knee walkers — they're way easier to maneuver than crutches. People often ask me some variation of, "Aren't you secretly having fun on that?" Answer: not as much fun as I would if I had been walking for the last year of my life.
10 a.m. For the first time in two months, I walk (with crutches) for about a half mile to run an errand. It's a little victory, but it's painful. My injury was a chronic issue from dancing and an active lifestyle, but also from genetically flat feet. I waited for years to have the inevitable surgery, and when I did, I had a torn tendon and ligament and some impingement. One surgery (last June) turned into two, which then has taken over my year because of various stress reactions, bone irritations, and fractures.
2 p.m. Meet up with my friend Jay for a movie and beers. He and I seem to be each other's go-to friends to deal with dating debacles.
4:30 p.m. Jay and I nestle into our favorite booth at our regular spot and trade stories: He's feeling a little bit of guilt for hooking up frequently lately, but not enough guilt to stop (my take: Don't feel guilty!). I've had two very handsy sidewalk makeouts in the last two weeks — one with a bar mitzvah DJ, one with a finance bro. Both on the scooter.
6 p.m. Jay and I chat about how much this year of injury has changed me. Full disclosure: Not walking for a year will do a number on you, and I've been dealing with my fair share of depression and anxiety.
The only way to crawl out from the negativity has been to distract myself, and even though I can't go to a dance class, you better believe I can swipe right and sit across a table with a glass of wine (or three). I've always been something of a serial dater, and this year has had me juggling more dudes than ever before — possibly because I give less fucks than I used to. According to Jay, this attitude shift is translating to a helluva a lot more confidence. That, and the scooter is a pretty dope icebreaker.
9 p.m. I'm in for the night, so I smoke some weed with grand plans of some stoned masturbation, but pass out with an unused vibrator next to me. Eh, I'm having sex tomorrow, it'll be fine.
DAY TWO
9:30 a.m. Good morning, I'm planning on sex tonight … and I got my period. Fuck.
9:35 a.m. Frantically text Jay to ask him his thoughts on (a) period sex and (b) how to handle it with my fuckbuddy, DB. Is it weird to address it via text message beforehand?
11 a.m. Jay comes over for a bagel brunch. He also votes that I just address period sex head-on with DB, and that dudes should just throw a towel down. It's in this moment that I realize what shitheads I've dated in the past, 'cause yo: You don't have to be into period sex, but please don't act like I have the bubonic plague when I have my period, or that I'm insane for still having a sex drive when I do.
1 p.m. I went with the text-message strategy, and DB responds quickly: Period sex is a go.
3 p.m. I'm meeting DB at his new place tonight, so I Google, "Do you bring a housewarming present for your friend with benefits?" Emily Post didn't write anything helpful about what you bring for the dude who orders sushi for your postcoital snack. I decide to not.
7:40 p.m. I'm at DB's new apartment. This kind of situation is different for me: I've only ever had two other consistent friends-with-benefits. One of them is my actual friend, M, and the other was significant enough that we couldn't keep it casual. I'm really only looking for a relationship of convenience because this medical stuff is really, REALLY taking up so much mental space.
Anyway, DB and I met on an app, and I routinely describe him as insufferable. This is a man who once canceled plans with me because he had to "fly to the Hamptons to meet with billionaires." The many red flags aside, he's smart, attractive, and charismatic, and he's exactly the right amount of dominant in bed — including liberal use of toys, his mouth, and anal play. I'm into it.
9 p.m. DB and I are mid-hookup, he leaves the bedroom to grab a condom, and after a few minutes, I pad out of the room to see him unloading the dishwasher. Um, what? I grab a stool while he works, and DB says that he has a date on Wednesday with a 25-year-old, and though he's worried she's young (he's nearing 30), he wouldn't have agreed to it if the girl weren't so smart — she's "a neurosurgeon, or a neuroscientist, or something." He then remembers that we were supposed to have sex and that he's unloading the dishwasher and talking about other women instead. Reeling, I tell him to finish what he started — the dishes.
9:30 p.m. Period sex be damned: DB fucks me, comes, and then goes down on me for maybe 15 minutes? I have the most powerful orgasm I've had in years. My legs are shaking, and he's turned on by the involuntary movement, which makes me feel less self-conscious about the intensity of the orgasm.
10:30 p.m. We're eating sushi and cuddling while watching The West Wing, and I'm thinking about his 25-year-old. It's not the first time he's mentioned someone else, and we're far from exclusive. I don't love hearing about other women, but in a way, it's a good reminder — this is exactly what it is, and nothing more.
11:30 p.m. Home. Sleep. Bless DB and his very practiced oral skills.
DAY THREE
9 a.m. Ugh, early-morning meeting at the office with my two bosses. It's a particularly stressful week: We have two days left with one of our executives before he leaves for a four-week trip during our busiest time of year. We're also collectively leaving town for a two-month project in two weeks, so it's a total zoo. Blargh.
11 a.m. T texts me — he's the finance dude and one of the two sidewalk makeouts mentioned earlier. We have plans for dinner and jazz on Friday night at his members-only club.  He and I met under the guise of something casual — again, I'm leaving town soon, but even if I weren't, the only kind of relationship I want right now is one of convenience.
4 p.m. I haven't heard from DB, which hasn't been the case for the morning after our previous trysts, but maybe we've moved past the next-day text? I want help understanding the protocol for fuckbuddy communication, so I turn to Jay. He and his booty call see each other once every two weeks, but send each other jokes and memes intermittently. Hmm.
6:30 p.m. I like to joke that I'm the mascot of my physical-therapy clinic — I've been going so long that I know everyone, including some fellow patients. My PT and I have become friends; we're similar ages, and with about 30 minutes of FaceTime to chat twice a week, I see her more often than anyone other than my co-workers. We chat about her recent breakup. She seems to be handling it well. I want to suggest she sleep around, but I know that's not her style.
8 p.m. Dinner with a friend across the street from my place, and my favorite bartender, Jacob, sneaks up on us with shots of tequila. I scooted into this spot about a month ago when a friend and I were stoned and wanted quesadillas. Jacob caught the scooter and proceeded to buy us five rounds to lessen the pain. After I sent him on a scooter joyride down Second Avenue, we dove deep and chatted about transparency in human interactions. He told me that he's attracted to me, but that he's not looking for anything. A beautiful friendship was born.
11 p.m. After waving to Jacob, I head home and spend an hour bantering on the phone with a dude I last saw four years ago in Illinois. Random.
DAY FOUR
10 a.m. Today is going to be a DAY. Co-workers are snipping, everyone is stressed, I'm working an event after leaving the office, and oooof.
5 p.m. Send a dangling text to DB. He responds quickly, but doesn't engage further.
9 p.m. Finally home from work. Eat some Thai food with my mom, who's in town and staying in my apartment. My parents are still together, and got married at 25 after meeting in business school. I'm the oldest of three kids, and all of us are moderately type-A high achievers. Fun fact: We discuss my love life very little.
9:30 p.m. My best friend from college, Leigh, and I are actually calendaring phone calls with each other. She and her husband are celebrating a year of marriage, and she's so happy, even though she's jealous of my sexual exploits. We chat about DB and the 25-year-old, and I realize why this one is sticking with me. It'd be one thing if DB wanted the date because she's so hot, but it's because she's so smart. If you're looking to date, why the hell don't you want to date me? I'm great. Leigh affirms this, and mentions that this guy doesn't seem to care much about how he makes me feel. Emotionally speaking, sure. But physically? He does.
DAY FIVE
10 a.m. Blah blah blah work blah blah blah stress.
11 a.m. Realize I have the apartment to myself tonight. Send out some feeler texts, including one to M, the friend-with-benefits from earlier. We've been hooking up with intermittently since the first time I was on a scooter — back in 2013 — and I'd say we're actually friends first, benefits later. We only hook up about one in every three hangs, and while he's usually pretty good to me, he's got that kind of frat-boy confidence and dickish entitlement that often follows. He says yes to coming over, and I start to think about whether I actually want to bone tonight.
8 p.m. I'm home from the office and deeply invested in a game on TV. M's coming over feels increasingly less appealing, but it's our last chance to see each other before I head out of town.
10 p.m. M finally arrives, a solid hour and a half after I thought he'd get here. I'm exhausted and can already tell that I'm not in the mood for his particular brand of arrogant humor, so I look for opportunities to wrap it up quickly.
11:30 p.m. I tell M I'm wiped, but he pulls the same move that he always does — his best impish grin and says that we should just hook up "a little bit." He kisses me, and I kiss him back, why not? My sexual needs may have been met earlier this week, but my spooning needs haven't been, and we have a routine. We head to bed.
DAY SIX
12.15 a.m. I forgot how sexy spooning is.
5 a.m. M wakes up, dresses, and kisses me good-bye. He tells me to send him the schedule for my out-of-town project so that he can come visit, and I wave from bed and fall asleep, relishing the fact that he's no longer snoring next to me.
8:20 a.m. I wake up again, and honestly can't tell if M coming over was a dream or not.
3 p.m. M texts to ask for my out-of-town schedule. I doubt he'll visit, but the intent and follow-up is sweet.
11 p.m. Work, extracurricular activity, drinks, home.
DAY SEVEN
8 a.m. Physical therapy, complete with a tech playing some Danity Kane to crack me up. It's nice to be loved.
11 a.m. T is texting me and telling me how excited he is for the jazz date tonight. I feel ambivalent.
4 p.m. I have an infuriating staff meeting, where my boss publicly berates me for not accomplishing two mutually exclusive things. I feel railroaded, angry, and set up for failure. All I want to do is go home, but it's too late to bail on T.
6 p.m. I leave my office, and instead of heading over to the club, I cross the street to chat with a barista at my coffee shop. He's easy on the eyes, and bantering about what a dick move it would be to stand T up actually helps me feel better.
6:45 p.m. T is waiting downstairs for me at the club. He kisses me, offers me his vape pen, and leads me to the gorgeous patio of the club. He makes a point of knowing every waiter's name, and showing me to a great table. As much as I'm flattered that he wants to impress me, it also feels a little forced.
8 p.m. We've now moved from the table to a couch to another couch, and like, I don't care that much about where we sit? I'm cross-faded and emphasizing that he should feel free to pass me when it comes to drinking.
10.30 p.m. After moving back to our original table to eat (because of course, food can't be consumed on a couch at the club), we move back to yet another couch and T gradually moves his hand up my dress. All of a sudden, I'm getting fingered on the patio of an elite social club.
11 p.m. The patio closes, but not before T tells me that he doesn't think we could ever have a bad date. He now seems … less casually oriented?
We head downstairs to another bar, where he informs me that he thinks it'd be fun if I went to the bathroom and took off my underwear. I'm not ready to give in that easily, and while we sip our whiskey, I make him beg me to go home with him.
11:30 p.m. We're in a cab, and this time, I acquiesce when he tells me to take off my underwear. He asks the cabdriver to turn up the music, and I turn off the voice in my head that feels guilty about being fingered in what's essentially the driver's office. It's taken me a year of being on wheels, crutches, and everything in between, but I'm finally having the sex life I want … might as well let go a little and enjoy it.
Get Sex Diaries every week.
Want to submit a sex diary? Email sexdiaries@nymag.com and tell us a little about yourself.