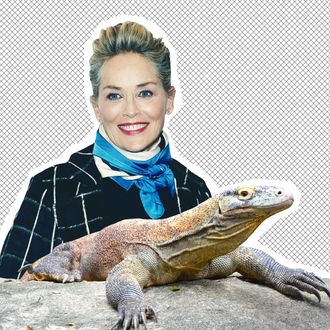 Sharon Stone and friend.
Photo: Getty Images
For better or for worse, most of us have never, and probably will never see a Komodo dragon in our lifetimes. But Basic Instinct star Sharon Stone has now seen them on at least two separate occasions, including just this weekend, when she caught one strolling down her street in Beverly Hills.
On Sunday, Stone tweeted a video of the lizard with the caption, "This is walking up my street!!!! What is going on!!!!!!!" which is an appropriate number of exclamation marks for such an occasion.
For the benefit of those unfamiliar with the different varieties of monitor lizards, she added, "It was a ten foot long Komodo dragon loose on the street!"
"Animal control finally picked him up. So dangerous!" she tweeted shortly after.
Jessica Alba also shared a video of what appears to be the same Komodo dragon, along with the hashtags "#komododragon?" "#monitorlizard?" "#sundayfunday" and "#homesweethome."
Komodo dragons, for those of you who aren't Sharon Stone and might not know, are the largest living species of lizard in the world, native to the Indonesian island of Komodo, as well as a handful of neighboring islands.
Stone's last known encounter with one was in 2001, when she surprised her then-husband, executive editor of the San Francisco Chronicle Phil Bronstein, with a private tour of the Los Angeles zoo. In the reptile house, Bronstein was invited to enter the Komodo dragon's cage ("Everybody goes in there. Kids pet him. It's fine," Stone claims the zookeeper said), where the zookeeper suggested he remove his white shoes and socks because the lizard might mistake them for the white rats they feed him. The Komodo dragon then attacked Bronstein's foot, crushing his big toe in its jaws, while groups of children pressed their horrified faces against the glass. The editor managed to pry open the reptile's mouth and make his way out of the cage, where Stone made a tourniquet out of his sock and waited for medical assistance.
"We're very grateful for the professional care of the people at the hospital," Stone said at the time. "And we certainly don't blame the people at the zoo."
Who knows when Stone's next Komodo dragon encounter might be.