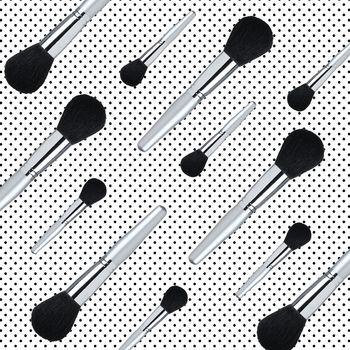 Think about your last moisturizer experience. Did you use your hands to pat the cream onto your skin? How pedestrian! At least, that's what some beauty brands would like you to think.
Skin-care brushes are the latest gimmick attempting to sweep the beauty world. These aren't facial cleansing brushes, like the ones from Clarisonic or Foreo, but brushes designed to add products to your skin. Artis, home to the softest, most luxurious makeup brushes on the planet, offers a $225 set that's outfitted with special fibers to "respond even better to more emollient formulas, like creamy or thick skin-care formulas, serums, and masks." Just this week, Sigma — the affordable brush brand popularized by bloggers and makeup artists alike — introduced its own set. For a cool $55, you can own six brushes tailor-made to pile masks, serums, lotions, and even eye cream onto your face.
Admittedly, these brushes are fun to play with. I test-drove Sigma's for a week and felt wildly self-indulgent as each brush traced my skin with various colors of goo. Sigma's set is comprised of a big silicone "brush" that's equipped with a head shaped like a guitar pick. This brush is meant for mud masks, the brand explains. A smaller version is engineered to assist with smaller tasks, like spot treatments, or scraping the lasts bits of product from the bottom of a long, hard-to-reach jar.
The moisturizer brush is an actual brush with bristles that are angled to about 20 degrees. The serum brush, on the other hand, is a thin, flat-bristle brush. Sigma also sells a fatter, round brush that is intended for gel masks, and a small, eye-shadow-like brush for eye creams.
The silicone mask brush is actually useful — I found that it was much easier to spread an even layer of mud all over my skin. As for the rest of the brushes? They were felt nice, but ultimately unnecessary. There were also, perhaps, bad for my skin.
"It boils down to making sure you are working with a sterile environment," explains Rhea Souhleris Grous, an esthetician and proprietor of La Suite Skincare. "Brushes are great in a professional setting, like during a facial, because they provide an even application, but a professional also instinctively knows to sterilize the brush after each use." A dirty brush, Souhleris Grous warns, can spread bacteria and inflame other skin conditions, like acne.
But who has the time to give their skin-care brush a daily bath? Not me. Then again, the old-fashioned finger application arrives with its own set of drawbacks. "Dirty fingers are just as much of a problem as a dirty brush," Souhleris Grous says. "So really, it's a matter of 'six eggs, half a dozen.'"
So here's the takeaway: skin-care brushes aren't entirely useless. If you happen to like beauty gizmos, they're actually a lot of fun. Just wash them. Often. Or just wash your hands.
If you buy something through our links, New York may earn an affiliate commission.